Newsom signs San Francisco
affordable housing legislation into law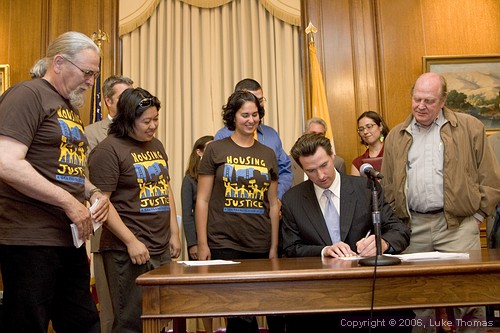 Photo(s) by Luke Thomas
By Ari Burack, Bay City News Service
August 11, 2006
SAN FRANCISCO (BCN) - Mayor Gavin Newsom on Thursday signed into law legislation designed to allow for more affordable housing in San Francisco, praising it as a model for large cities throughout the country.
The new "inclusionary housing ordinance'' was sponsored by Supervisors Chris Daly, Sophie Maxwell and Jake McGoldrick, and according to the mayor's office, strengthens a previous ordinance adopted in 2002.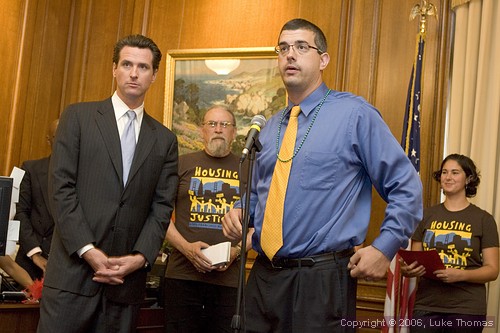 Supervisor Chris Daly
"Not only are we improving the city's housing policy to create affordable housing in economically integrated communities, we are also celebrating our ability to prioritize good policy over politics,'' Newsom said.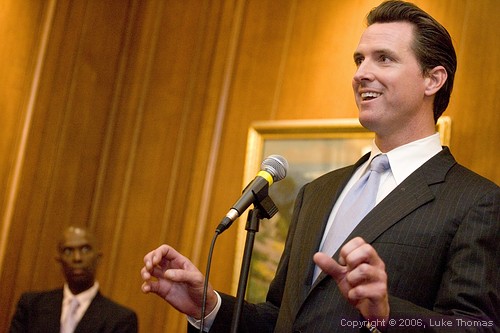 Mayor Gavin Newsom
The new ordinance requires new housing projects to make 15 percent of their on-site units, or 20 percent of off-site units, affordable to "moderate-income buyers or low income renters,'' according to the mayor's office.
The previous requirements in the city had been 10 to 12 percent for on-site units and 15 to 17 percent for off-site units.
The housing rules will also now apply to developments of five units or greater; as opposed to a requirement of at least 10 units under the previous ordinance.
In addition, the new ordinance requires off-site developments to be within one mile of "the market-rate development,'' in a bid to create greater "economic integration,'' according to the mayor's office.
"Today we have taken a significant step to providing housing opportunities for all of San Francisco's residents,'' Supervisor Sophie Maxwell said.
"This ordinance will help our city be a city be a city for everyone, with real economic and social diversity. This is a victory for San Franciscans,'' she said.
According to the mayor's office, at 15-percent inclusionary housing, San Francisco's housing policy is one of the highest percentages of any large city in the country, as well as being one of the most comprehensive, eliminating loopholes present in other cities' policies.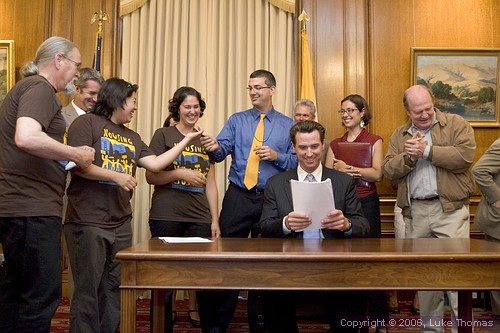 Copyright © 2006 by Bay City News, Inc. -- Republication, Rebroadcast or any other Reuse without the express written consent of Bay City News, Inc. is prohibited.
####