U.S. Attorney General discusses immigration in Santa Clara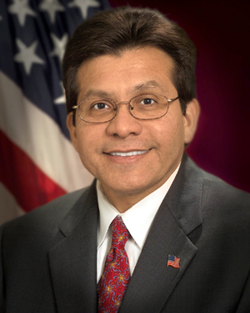 Alberto Gonzalez.
Photo courtesy US Department of Justice
By Jason Bennert, Bay City News Service
July 21, 2006
SANTA CLARA (BCN) - U.S. Attorney General Alberto Gonzales told a Santa Clara audience today that there are "no easy answers'' when dealing with illegal immigration.
Conservative opponents of President George W. Bush's plan, which would offer many illegal immigrants the eventual opportunity to become citizens, need to be realistic about the millions of illegal immigrants already in the country, according to Gonzales.
"Reforms must be based in reality. We cannot realistically deport en masse 12 million people who are here illegally,'' Gonzales said.
Gonzales stressed that the federal government must secure not only the southern border with Mexico but also the northern border with Canada.
"A porous border is an opportunity for terrorists to enter,'' Gonzales said.
Following his speech, Gonzales took written questions from the audience. He said that despite this being an election year, Congress needs to pass immigration reform this year.
Gonzales also defended the Bush administration's domestic eavesdropping efforts as "vital'' to national security. He said he has not fully read Thursday's decision by San Francisco-based U.S. District Court Judge Vaughn Walker allowing an Electronic Freedom Foundation lawsuit challenging the eavesdropping to proceed, and would not comment on the decision. However, he said an appeal is possible and plans to meet with his deputies to discuss it.
Copyright © 2006 by Bay City News, Inc. -- Republication, Rebroadcast or any other Reuse without the express written consent of Bay City News, Inc. is prohibited.
####