Alioto-Pier charter amendment proposal heard
in Rules Committee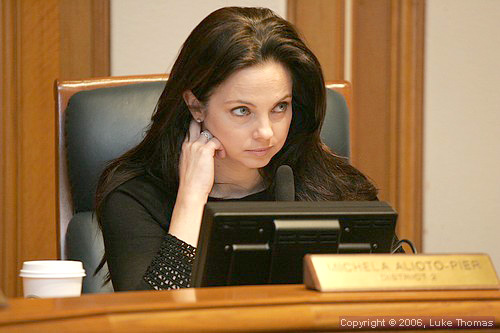 Michela Alioto-Pier at the Rules Committee hearing yesterday to discuss Alioto-Pier's charter amendment proposal making it possible for supervisors to teleconference offsite under certain conditions related to pregnancy.
Photo(s) by Luke Thomas
June 16, 2006
A Board of Supervisors committee took public comment Thursday on proposed legislation which would allow pregnant supervisors and commissioners to vote by teleconference.

"I'm a young woman interested in pursuing a career in politics, but at the same time I want to raise a family," said Jaynry W. Mak, legislative assistant for District 4 Supervisor Fiona May . "This legislation provides more opportunity for young women to get into politics."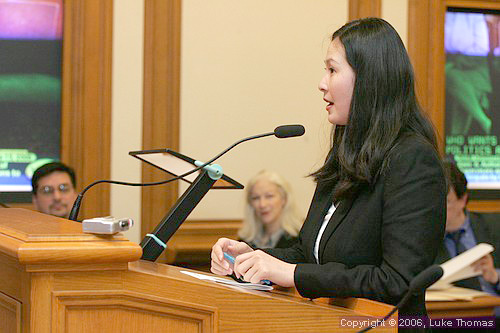 Jaynry W. Mak
Mak plans to run for a position on the board of supervisors for District 2 in November to replace Supervisor Fiona Ma.

District 2 Supervisor Michela Alioto-Pier introduced the legislation. If the charter amendment is passed by the full body of the Board of Supervisors, it would essentially do two things-: It would allow women who are pregnant, to participate in meetings via teleconference said Alioto-Pier.

It would also give the board the ability to create a policy for maternity or paternity leave.
California state law provides teleconferencing for any reason, as long as the majority of the body is physically present. The City of San Francisco charter is more restricted than state law, requiring members of an elected body to be present at meetings, Alioto-Pier said.

"When a woman is pregnant, there can be complications, along with those pregnancies," said Alioto-Pier. "And the reason for this charter amendment is to ensure that when a member of our elected body serves on the board of supervisors or in any of our commissions, when they are pregnant, they are not put in a position where they have to choose the health of their unborn baby, or whether or not they are doing their job properly."
Among the several public speakers present were Heidi Sieck, representing the San Francisco Women's Political Committee, and the National Women's Political Caucus.

"Congress is comprised of about 13 or 14 percent of women and that is obviously an inappropriate gap for representation, and all of those women on a national level got their start in local government," Sieck said.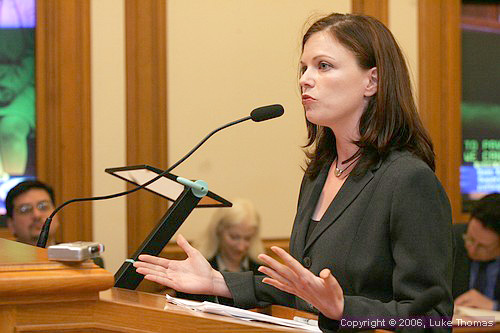 Heidi Sieck
Alioto-Pier said there are 22 municipalities that allow elected members to participate in teleconferencing, Palo Alto being one of them, and six California counties that allow remote voting. Other jurisdictions are not as limited as this proposal, said Alioto-Pier, who is making sure to keep this legislation under specific conditions.
"It's not only a woman's issue," said San Francisco resident Joseph Bravermin. "Everyone has an axe to grind. If a person is indisposed and he is sick, how does he carry out his functions as a member of a board?"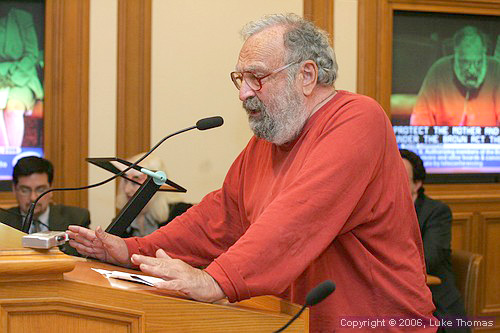 Joseph Bravermin
Alioto-Pier said allowing board members to leave for other illnesses would call for a completely different proposal.
Although City Hall is equipped for teleconferencing on site, the estimated high-end cost would be up to $200,000, according to Peg Stevenson from the Controller's Office. This would include a specific technology that supports multiple phone and video conferences. There may be some additional costs involved, she said.
The charter amendment does not specify how the meetings would be teleconferenced, leaving it to the discretion of the Board of Supervisors.
"I do feel very supportive of this," said District 9 Supervisor Tom Ammiano. "I think we are going to be dealing with issues other than pregnancy and representation as technology does advance, and what is gonna be playing by the rules and what is gonna require changing."

Supervisor Tom Ammiano
Should the legislation be passed by the Board of Supervisors, the Brown Act would impose certain restrictions requiring a posting of the meeting location and agenda, while making both accessible to the public, according to Tom Owen from the Attorney's Office.
"The reason that this is so tailored to pregnancy is because it's simply the natural state of a woman," Alioto-Pier said. "And what we find is that there aren't that many young women who participate in politics, and we wanted to make sure this was open to them equally."
The proposal has been continued for further discussion at next week's Rules Committee meeting.
####