Alioto-Pier seeks end to new Newsom-Peskin fee costing some homeowners more than property tax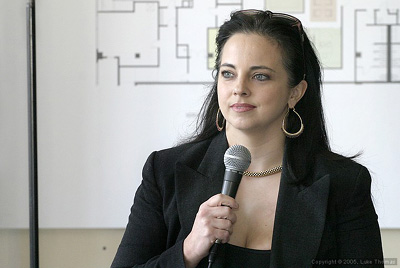 Supervisor Alioto-Pier. File photo.
Photo(s) by Luke Thomas
January 24, 2006, 4:15 p.m.
Supervisor Michela Alioto-Pier today moved to suspend a new assessment fee advanced by Mayor Gavin Newsom with support of Supervisor Aaron Peskin, her office reported.
The $3.00 per square foot of public right-of-way occupancy assessment has resulted in homeowner assessments higher than their property taxes, her office said.
"Hundreds of property owners have or are scheduled to receive letters demanding thousands of dollars annually for sidewalk encroachments," Alioto-Pier said in a prepared statement.
Those assessments "go on every year forever," added an Alioto-Pier legislative assistant.
The new fee went into effect last August.
It was designed to capture situations where a private property owner had taken over portions of the public-right-of-way, continued the written statement.
"Unfortunately, in its current form, the ordinance also captures situations where an encroachment is required by the planning or public works code or to provide disabled access.
Legislation introduced this afternoon by Alioto-Pier will suspend collection of the annual fee "and require the Department of Public Works to provide a report on the types, sizes, and number of minor encroachment permits."
"This report will be used to design a fee structure that does not punish property owners for complying with the planning code or for providing neighborhood amenities.
"Charging for taking over part of the public sidewalk for commercial purposes is totally appropriate, but charging someone hundreds of dollars a year because they want to make the street more beautiful with a tree or a planter box, or repair their sidewalk just does not make sense," stated Alioto-Pier.
####