Baseball's All-Star Game preparations begin
for 500,000 peanut and crackerjack fans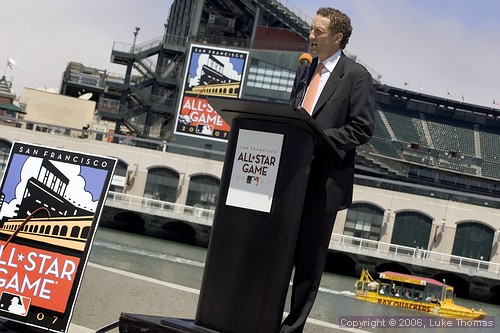 San Francisco Giants Chief Operating Officer Larry Baer
announces details of the upcoming All-Star Game week festivities.
Photo(s) by Luke Thomas
July 14, 2006
Although still a year away, a weeklong San Francisco peanuts and jackerjacks celebration got its own logo today with expectations that All Stars Game Week will draw 100 million television viewers and participants.
A fleet of sailboats punctuated that invitation under sweet blue skies, with Mayor Gavin Newsom pointing out that such televised iconic San Francisco images will be beamed to 100 million viewers in 226 countries in 12 languages.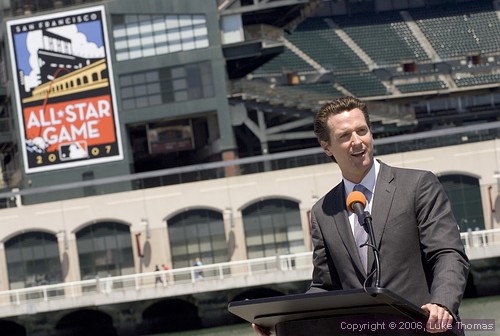 Mayor Gavin Newsom
"This is a big deal for San Francisco beyond just the legacy of sport," noted Newsom.
"The reality is those 100 million people that will be watching the game will also be watching the iconic images of the San Francisco Bay Area.
"You can imagine the... footage of the Golden Gate Bridge and then the helicopters realigning passed the Transamerica Building passed the Cable Cars right here on the edge of this magnificent Bay.
"I think that's going to pay huge dividends beyond the $50 million to $60 million of economic stimulus which consistently has been the economic benefit to the city that has hosted the All Star Game."
San Francisco's AT&T Park will host the 78th All Star Game on July 10, 2007, preceded by five days of All Star Fan Fest to include Taco Bell Sunday, Workout Day Monday, and the Tuesday All Star Game.
The logo, designed by Michael Schwab, drew on the concept of a city built on the beauty of water, reported San Francisco Giants Chief Operating Officer Larry Baer.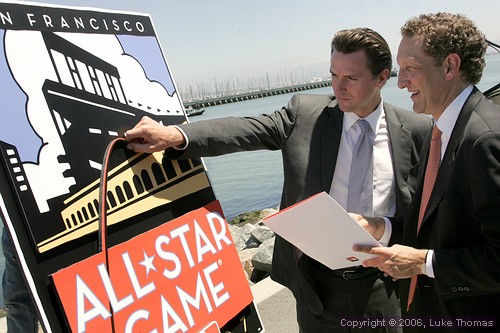 Larry Baer reviews All Star Game logo with San Francisco Mayor Gavin Newsom.
"We feel that having this (AT&T Park) site was really an opportunity for us to do something very unique and that is to show off a city that is really built on water.
"It's a city of views and we want that to be represented in the logo, and Michael has done that so beautifully."
####