Angelides proposes middle-class tax cuts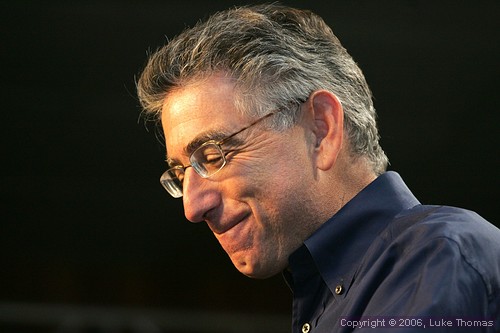 Phil Angelides.
File photo (8/12/6)
Photo(s) by Luke Thomas
By Jason Bennert, Bay City News Service
August 16, 2006
SAN FRANCISCO (BCN) - State Treasurer Phil Angelides today announced that, if elected governor in November, he would propose a set of tax cuts that would benefit more than 4 million families earning less that $100,000 annually.
Angelides, the Democratic nominee, unveiled his proposal at news conferences in both Los Angeles and San Francisco.
"I will help hard-working families by cutting middle-class taxes, rewarding work, and making college and health care more accessible and affordable,'' Angelides said.
Angelides' proposal includes an income tax credit of up to $660 per year for those earning less than $46,000 annually as well as increasing the state's dependent income tax credit by $200 per child to $483 per year.
A spokesman for the campaign of Gov. Arnold Schwarzenegger, Angelides' Republican opponent, said Angelides has historically supported tax increases and not cuts and has already promised to raise taxes for many state residents if elected.
"Phil Angelides has no credibility talking about tax breaks considering he has spent his entire career supporting tax increases. It's laughable that 83 days out from the election, Angelides is pandering on his central campaign promise of higher taxes,'' Schwarzenegger campaign spokesman Matt David said in a statement.
In San Francisco, Angelides told a crowd of supporters that his proposed tax increases would be relatively painless to them and would only affect the wealthiest Californians.
"I'll make couples who earn more than half a million dollars each year pay the same tax rate that Governors Reagan and Wilson made them pay, for just three years, until we get back on our feet. For someone earning a million dollars a year, that's about eight bucks a day, not much more than the price of a couple lattes,'' Angelides said.
Angelides was introduced in San Francisco by Sen. Dianne Feinstein, D-Calif., who also is running for re-election this year.
Copyright © 2006 by Bay City News, Inc. -- Republication, Rebroadcast or any other Reuse without the express written consent of Bay City News, Inc. is prohibited.
####