Concern over Arab port ownership may be misplaced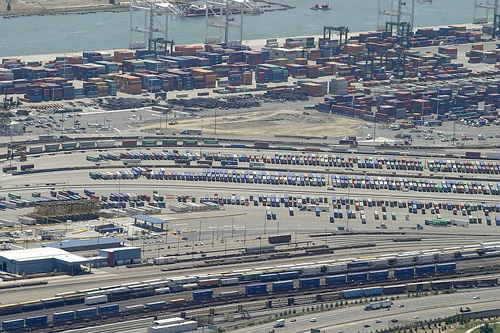 Port of Oakland file photo.
Photo(s) by Luke Thomas
By Jason Benner, Bay City News Service
February 25, 2006
Members of Congress and others concerned about an Arab company operating six major ports on the eastern seaboard of the United States may find upon closer examination that ports nationwide have an international flavor, a Port of Oakland spokesman said Friday.
Oakland is the nation's fourth-busiest port, behind Los Angeles, Long Beach and New York-New Jersey, and has several international companies operating at its nine terminals.
"It's a very interwoven, international operation,'' port spokesman Harold Jones said.
Dubai Ports World, the United Arab Emirates company that acquired the operating rights to the ports of New York, Newark, Philadelphia, Baltimore, New Orleans and Miami, announced late Thursday that it would delay taking over operations of the six ports in order to give U.S. officials time to become better informed about the situation.
Some members of Congress have objected to the deal on security grounds.
Critics of the deal point out that two Sept. 11 hijackers were from the United Arab Emirates. The Bush Administration supports the deal and maintains that security will not be compromised because it is the responsibility of the Department of Homeland Security, regardless of who operates any individual port.
Jones said international companies are common in U.S. ports, including that of Oakland. "A number of international companies have a presence at the port,'' he said.
Among the companies operating in Oakland are the Japanese company Mitsui, which operates Berth 30, and the Korean company Hanjin, which operates berths 55 and 56, according to Jones.
Copyright © 2006 by Bay City News, Inc. -- Republication, Rebroadcast or any other Reuse without the express written consent of Bay City News, Inc. is prohibited.
####