Arbor Day honors Rosa Parks
with life giving tree planted
where blacks ride bus at the front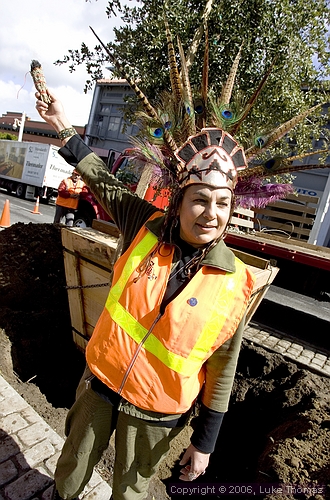 DPW's Liz Lerma calls upon her Chicana Spanish
and Indian roots to invoke Rosa Parks
and San Franciscan ancestors through the rising
of Sage smoke. The invocation turned
to the North as symbolic of Ancestors,
to the West as symbolic of Women,
to the South as symbolic of Children,
and to the East as symbolic of Men.
Photo(s) by Luke Thomas
March 15, 2006
Cool gray San Francisco greened itself beyond promise over the last year with newly planted trees and celebrated Tuesday by honoring civil rights legend Rosa Parks with a very special tree in a very special place.
A plaque honors Parks as early pillar of the civil rights movement by her refusal to surrender a bus seat meant only for caucasians, adjoining the oxygen producing Cork tree planted yesterday on one of San Francisco's busiest bus arteries.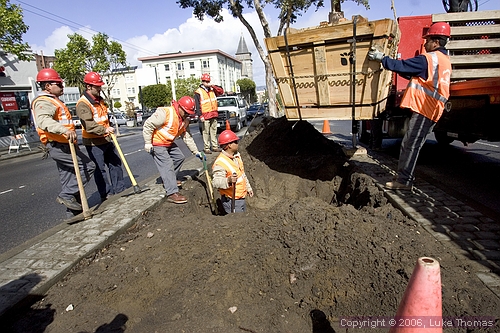 Both the San Francisco mayor and the president of the local NAACP San Francisco explained significance at 12:30 p.m. kickoff of Arbor Day Activities.
Arbor Day marks worldwide observance which encourages tree planting and care.
NAACP president Dr. Amos Brown drew symbolism of avian life as example for human conduct.
"Birds will come and rest on this tree," Brown said of the tree rooted at Van Ness Avenue and Jackson Street.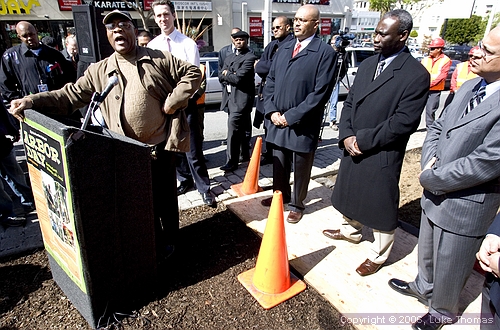 Amos Brown at the podium
"No black bird would tell a jay bird, 'You can't rest on this tree.' No sparrow would tell a pigeon, 'You can't rest on this tree.'
"And I think the message must be for all of us that San Francisco must be a City where everybody will have a landing and a lighting place, where all of God's children will be affirmed and accepted in this city - whether you're gay or straight, black or brown, yellow, red, or white, we will all be significant in God's sight and in this City."
San Francisco status as a world city cannot be fully established without improved streetscaping, Mayor Gavin Newsom stated.
"I've been fortunate to travel... around the world to see what other cities are doing in cleaning their city streets and greening them."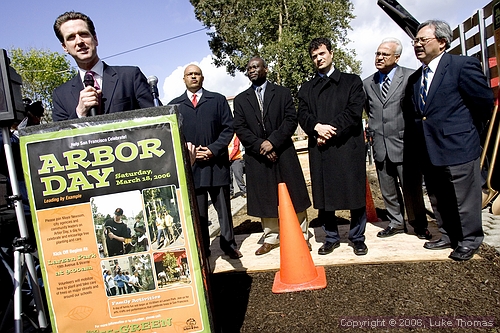 Mayor Gavin Newsom, DPW Deputy Director Mohammed Nuru,
Rec and Park Director Yomi Agunbiade,
Director of San Francisco Department of the Environment Jared Blumenfeld,
Director of DPW Fred Abadi and City Administrator Ed Lee.
He noted that Saturday marks City first year effort to plant 5,000 trees, now exceeded by 266. Newsom projected that by Saturday the figure will rise to 5,583.
"We can do a lot more," continued Newsom.
"Particularly around our median strips, our entrances and exits to San Francisco, all of those hardscapes - the concrete islands et cetera -- by softening those edges, by greening those streets."
Newsom cited a University of Illinois study of Chicago's sixteen year street greening as yielding unanticipated benefits.
Results showed "not just the civic pride that is the intangible benefit of cleaning and greening the city but the economic advancement to be made," Newsom reported.
"The increase of property values. The decrease of crime associated with greening. You never would have imagined that could be the case but it's been demonstrated over and over again," said Newsom. Pedestrian fatalities also declined, he said.
"The benefits are significant. They are not just esthetic."
Newsom said choosing Cork as the tree to launch Arbor Day activities is emblematic of his personal maxim to embrace mistakes for improved performance.
"It's symbolic of my struggles and frustrations. The Cork tree is an amazing tree because it sheds and you're able to use it over and over again," stated the mayor.
A rare Camperdown Elm will be planted in Larsen Park on Saturday, the official day of San Francisco Arbor Day observance. Arbor Day is celebrated on different dates throughout the country.
Only two other Camperdown Elms have been planted in San Francisco. Both were planted in Golden Gate Park in the early 1900s by City Park Superintendent John McLaren.
McLaren is credited with early greening of barren sand dunes on the west side of San Francisco
Last year on Arbor Day 160 trees were planted in the Bayview District.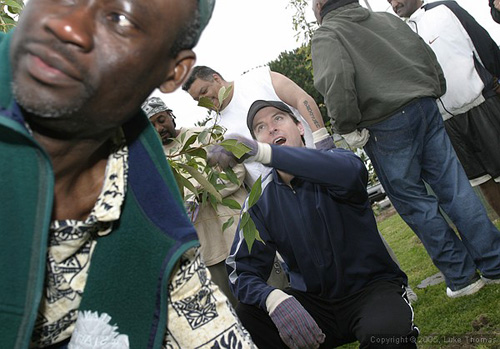 Mayor Gavin Newsom and Rec and Park Director Yomi Agunbiade
plant saplings in the Bayview, 3/12/5.
This year the public will participate in Larsen Park tree planting with live entertainment, arts and crafts for children, exhibits, and informational tables on urban forestry.
The City has increased its fleet of watering trucks to care for expanded San Francisco greenscaping.
For volunteer information and schedule of Arbor Day Activities, visit www.sfarborday.org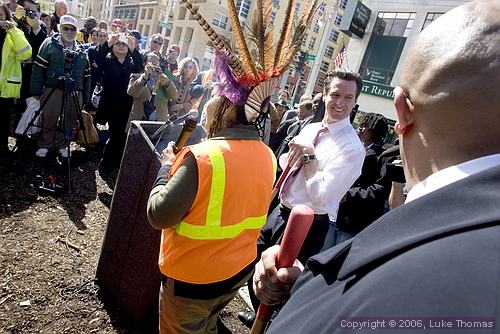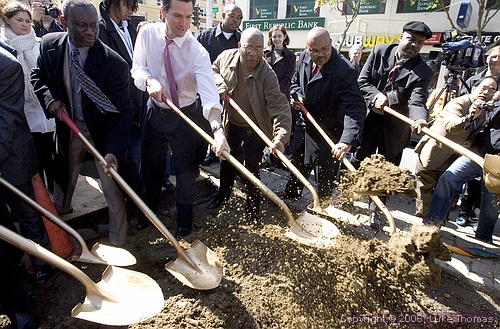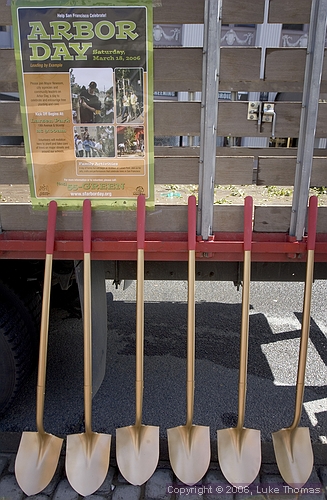 ####