Reward in Ashlyn Dyer hit-and-run increased to $50,000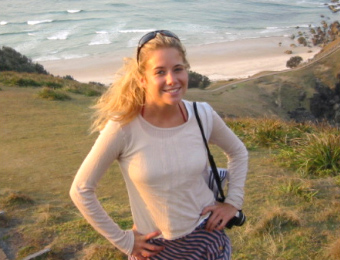 Ashlyn Dyer photo courtesy www.ashlyndyer.com
By Brigid Gaffikin, Bay City News Service
March 30, 2006
SAN FRANCISCO (BCN) - Friends and family of Ashlyn Dyer, a 27-year-old San Francisco woman killed in an apparent hit-and run accident earlier this month, have increased to $50,000 the reward being offered for information leading to a closure of the investigation into her death.
The announcement came Tuesday, some two weeks after a $20,000 "no questions asked" reward was announced jointly by the city of San Francisco and the Presidio Parks Trust, each contributing $10,000.
Dyer's close friend Joe Harper said the additional $30,000 was being offered mainly by her friends and with the "same stipulations as the original," $20,000 reward.
Contributions to the new reward fund have come "from all over the country," Harper said.
"We are hopeful that the person responsible for Ashlyn Dyer's death reflects on what has happened, feels remorse, and simply turns himself or herself in," Dyer's friends and family said in a statement.
Dyer, an avid jogger and frequent visitor to the Presidio, died on March 12.
She suffered brain injuries after an apparent hit-and-run accident on the morning of March 2, when she was discovered by a Presidio Parks employee around 7 a.m., just off Washington Boulevard and Kobbe Avenue.
Her death marks the first pedestrian fatality in the park since it fell into the jurisdiction of U.S. Park police in 1994, according to U.S. Park police Detective Sgt. Robert Jansing.
"Basically, we don't have any solids leads or suspects right now," Jansing said.
"We're not getting any calls from anybody who actually did see" the collision, he said.
But "we encourage all calls," he said, and added that investigators are greatly appreciative of the interest the public has shown in the case.
Results of Federal Bureau of Investigations lab tests may give investigators something more to go on, according to Jansing.
"There's some fragments of what may have been glass from a vehicle and some things found on her clothing that may be related to a vehicle," he said.
But "right now they can't even be sure what size of vehicle did this" because there's no way of knowing where on the vehicle the damage might be, he said.
This case is unlike most hit-and-run accidents, which are "pretty easy to solve" because there are often witnesses or visible damage to a vehicle, according to Jansing.
Dyer was a white woman about 5 feet 9 inches tall and weighing 140 pounds.
At the time of the accident she was wearing a light blue jogging top, navy blue shorts and white running shoes, according to police. She was also wearing a pink Timex watch and carrying an orange iPod music player.
She was not carrying identification, but her name was recovered from her iPod.
Anyone with information on the collision is encouraged to call Jansing of the U.S. Park Police at (415) 561-5144. Information can also be left at confidential tip line at (415) 575-4444.
Dyer's family and friends have established the Ashlyn Dyer Foundation for Neurological Research and Support to encourage research into traumatic brain injury, which they note affects nearly 2 million people in the U.S. each year.
More information is available at http://www.ashlyndyer.com.
Copyright © 2006 by Bay City News, Inc. -- Republication, Rebroadcast or any other Reuse without the express written consent of Bay City News, Inc. is prohibited.
####