May proclaimed Asian-Pacific American Heritage month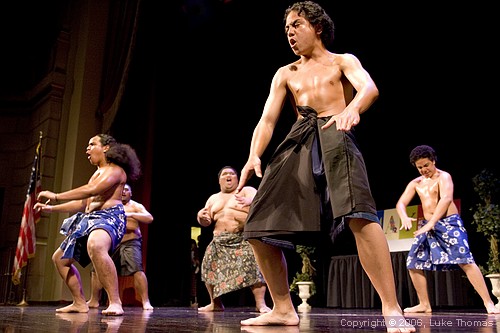 A Samoan dance, performed by the Samoan Community Development Center,
began the evenings performance proceedings.
Photo(s) by Luke Thomas
May 9, 2006
Twenty nine years ago, Jeanie Jew had a dream. The Organization of Chinese Americans board member wanted the United States government to acknowledge Asian Pacific Americans, including her great-grandfather who built the Transcontinental Railroad, as part of the country's diverse history.
Jew's efforts led to President Jimmy Carter's proclamation on Oct. 5, 1978 of a seven-day period starting on May 4 known as "Asian/Pacific American Heritage Week." The week honors the first Japanese immigrants arrival to the United States on May 7, 1843 and the completion of the Transcontinental Railroad by thousands of Chinese American workers on May 10, 1869.
On Monday evening at the Herbst Theatre, Mayor Gavin Newsom officially proclaimed the entire month of May as Asian Pacific American Heritage Month in San Francisco, home of 33 percent of Asian Pacific Americans residing in the United States.
The proclamation is political recognition of Asian American achievements in American history, said Claudine Cheng, Asian Pacific American Heritage Celebration Committee chair.
"Asian Americans worked very hard and contributed in their own ways and helped in the growth of this city," Cheng said.
Sherry Hu, CBS 5 reporter, thanked the leaders of the Asian American community for their continuous support of Asian American reporters nationwide.
"Asian Americans are on the news and we are increasing in management roles at television stations throughout the country," Hu said.
Dennis Wu, 10, sang the "Star Spangled Banner" in a dark blue qipao.
"I've been practicing the song for three weeks," said Wu, a student at Cornerstone Academy. "I want to be a singer when I grow up like my favorite pop star Teresa Teng."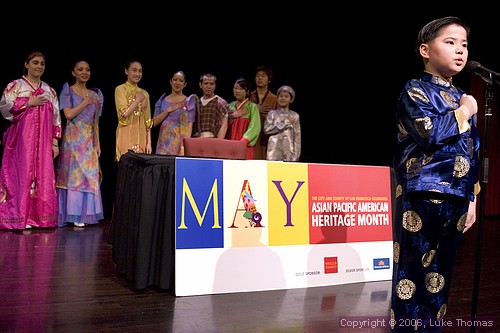 Dennis Wu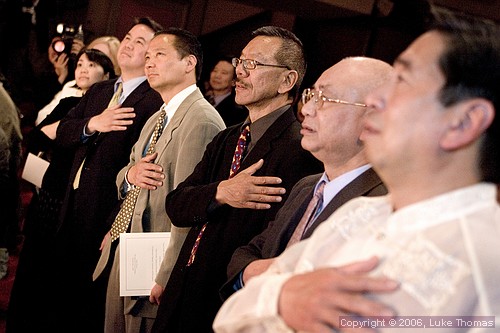 Newsom signed the proclamation with prestigious Asian American leaders standing behind him. Attendees included Assessor-Recorder Phil Ting, Public Defender Jeff Adachi, Supervisor Fiona Ma, Police Chief Heather Fong, and Norman Yee, president of the Board of Education.
"Tonight, we celebrate everything that is good and right in our city," Newsom said. "Our diversity is our city's greatest strength."
Newsom said the city's economic growth s completely interlinked with the economic development of Asia, including Sister Cities in Ho Chi Minh City, Manila, Osaka, Seoul, Shanghai, Sydney and Taipei.
"We are truly the gateway for the Pacific and Asian Pacific American diversity is a godsend for our future," Newsom said.
Developing the future means protecting the past, Newsom said. He will make stronger efforts to preserve the city's Japantown, which is one of the few remaining Japantowns nationwide.
"It's not just important to the Japanese community," Newsom said. "It's important for all of us to preserve and invest in our heritage. I am sure we will be doing the same for Chinatown and the other Asian communities in this great and extraordinary city."
As San Francisco honored the city's rebirth after the 1906 earthquake, the Asian Pacific American Heritage Celebration Committee honored three Asian Pacific Americans born in 1906 who established their home in San Francisco.
Jie Ying Li, 100, immigrated from the Guangdong Province to San Francisco in 1991. Misao Fujikata Sarmiento, 100, immigrated from Japan to San Francisco in 1933. Lu Chu Wong Ng, 100, immigrated from China to the United states in 1977. Ng's daughter-in-law Lily Chan is a member of the Landmarks Preservation Advisory Board.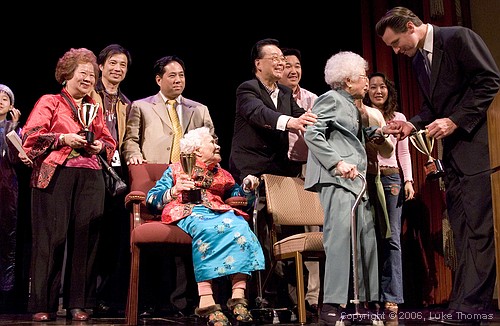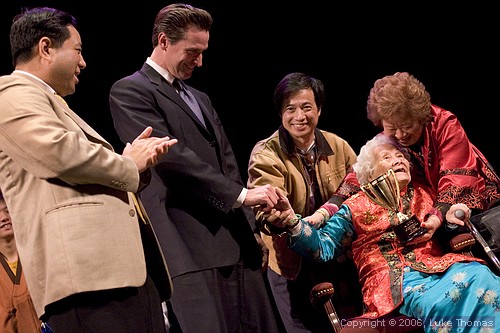 "As San Francisco rose from the 1906 earthquake, the city's Asian Pacific American community rose with it," Cheng said.
After the ceremony, attendees went upstairs to a reception catered by Chilipepper Events featuring samples of the top local Asian restaurants, including Le Soleil and Straits Restaurant, through the Asian Chefs Association. Han Vodka, Honig Vineyards & Winery, Rosenblum Cellars and Korbel Champagne Cellars provided refreshments.
Young Asian Pacific Americans dazzled the audiences with ethnic dances throughout the event. Performers came from the Likha Filipino Folk Dance Ensemble, the Samoan Community Development Center and the Vietnamese Youth Development Center.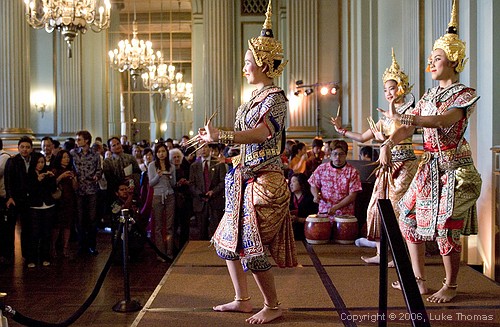 Thai dancers from the Thai Cultural Center of Wat Mongkolratanaram
Dennis Wu had an encore performance at the reception. He sang a Chinese version of "We are the World."
An older generation of Asian Americans quietly felt honored by the enormous community turnout for the event.
"It feels good knowing that we made a difference," said Fred Gomez, 83, a commissioner for Filipino American Veterans at the Veteran Affairs Commission. Gomez said he served in World War II.
"I hope this recognition will continue to project the image of strength and power of the Asian American community," said Alice Bulos, state chairman emeritus of the California Democratic Party's Filipino American caucus.
The ceremony launched the Asian Pacific American Heritage Celebration Committee's promotional campaign to promote public awareness citywide, Cheng said. The agency is working with media partners, such as the San Francisco Examiner, and currently has advertising on MUNI train exteriors.
"My goal next year is to have street banners just like the ones for San Francisco Rising," Cheng said.
Edward Chow, health commissioner for the Department of Public Health, said the efforts should go beyond the Asian Pacific American Heritage Celebration Committee.
"City departments should report on how they address the needs of Asian Pacific Americans in the community," Chow said. "I will strive to make it happen for my department."
Norman Yee, school board president, said the school board will strive to preserve the Asian Pacific American legacy for the next generation.
"It's important for us to bring the awareness of Asian Pacific American history to the state level and push for incorporation of textbooks that recognize Asian Pacific American achievements," Yee said.
Yee said the gradual inclusion of the Asian Pacific American legacy is still a challenge.
"It's still a heavy door but we are opening it little by little every day," Yee said. "Learning about our history is the key to being proud of it and ourselves."
Yumi (Athina) Choi, 16, said she is proud of her Korean American heritage. Choi wore a flowing pink hanbok, a traditional Korean costume worn to weddings and special occasions.
"I'm so proud of being Asian American," said Choi, a student at Lowell High School. "I hope that these initiatives will help the next generation of Asian Americans learn about their heritage and then teach it to the rest of the world."
For more information about Asian Pacific American Heritage month and to see a list of this month's events, visit the organization's Web site at www.apiaheritagesf.org.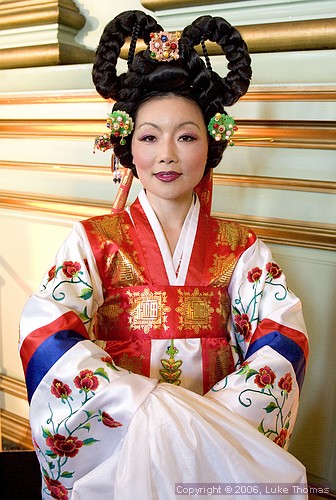 Il Huy Un

####