Now it's AT&T Park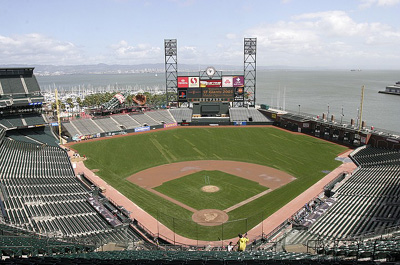 Photo(s) by Luke Thomas
By Brent Begin, Bay City News
February 3, 2006, 3:15 p.m.
SAN FRANCISCO (BCN) -- San Francisco Giants fans will have to get used to another name after an announcement today that their home ballpark is officially becoming AT&T Park.
The Giants currently play in SBC Park, which was known as Pacific Bell Park when it opened in 2000, but changed names in 2004 after SBC bought Pacific Bell.
Now SBC has merged with AT&T and plans to take the century-old name of the American Telephone and Telegraph Co.
That means SBC, which controls the naming rights for the ballpark through 2019, will stamp a third name on the face of the stadium.
Giants Executive Vice President Larry Baer said the change would not affect the atmosphere of the park or the team's performance.
"Our fans can continue to expect the same type of exciting and contending Giants baseball and quality customer service they have enjoyed ever since we opened the park," Baer said.
At game-day hotspot MoMo's, the restaurant's owner, Peter Osborne, said his customers will take the change in stride.
"Nobody's upset,'' said Osborne. "If they keep changing it, people are just going to get used to it. They should just call it the park across the street from MoMo's.''
Copyright © 2006 by Bay City News, Inc. -- Republication, Rebroadcast or any other Reuse without the express written consent of Bay City News, Inc. is prohibited.
####