New details emerge in Baker's Dozen attack
Assailant enlisted in United States Marine Corps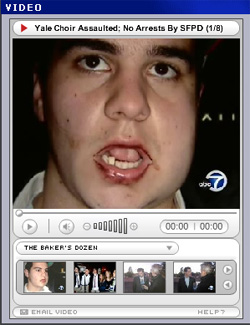 Screenshot courtesy KGO-TVDT
By Luke Thomas

February 13, 2007, 3:45 p.m.
Documents provided to Fog City Journal today paint a different picture of what may have transpired after a New Year's Eve party on Jaunary 1, 2007 when members of the all male cappella singing group, the Baker's Dozen, were brutally attacked by a group of men.
A letter, drafted by attorney Jim Hammer of the law firm Gonzalez and Leigh, addressed to Lt. General Blackman, Commander of the United States Marine Corps, identifies Lance Corporal Marino Peradotto as the assailant who broke the jaw of Hammer's client, Sharya Aziz, Jr.
In the letter, dated February 9, 2007, Hammer requests Blackman to assist in "initiating a criminal investigation" against Peradotto and to provide assistance to San Francisco authorities in their investigation of the matter.
According to the district attorney's office, the San Francisco Police Department has yet to provide a completed report of their internal investigation. The report is expected to shed light on the decisions made by SFPD officers that led to the assailants being released on scene without charges.
Contrary to the notion the assailants were released at the scene for a lack of evidence, there has been growing speculation they were released after allegedly telling SFPD officers they were enlisted in the United States Marine Corps, and were due to leave the U.S. on a tour of duty.
####