San Francisco police refer Baker's Dozen case
to prosecuters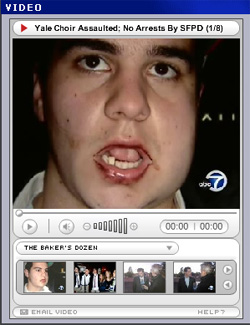 Screenshot courtesy KGO-TVDT
By Emmett Berg, Bay City News

February 17, 2007
SAN FRANCISCO (BCN) - Police investigators have conferred to prosecutors their final investigation of alleged assaults that followed a Yale choral group's rendition of "Star Spangled Banner" in the Richmond District on New Year's Day.
A representative of District Attorney Kamala Harris said on Friday that the San Francisco Police Department has completed its investigation into the alleged assault and aftermath.
One member of the Baker's Dozen singing club had his jaw broken in two places, and another was concussed and given two black eyes by assailants kicking him as he lay on the ground.
But defense attorneys for five youths implicated in the assaults reportedly will argue it was mutual combat by inebriated parties.
The district attorney offered no signal on when it could render a decision on charges referred by police investigators in their final report.
"We are reviewing their findings and analyzing the evidence to make a charging decision," spokeswoman Debbie Mesloh reported in a written statement. "We will also be meeting with the SFPD to discuss their final investigative findings."
Police first got calls at 12:43 a.m. about the fight in the 100 block of 15th Avenue, San Francisco police Sgt. Neville Gittens said. Those involved in fight had come from a party at a nearby home, he said.
Members of the Baker's dozen approached officers responding to the area and pointed at four others, saying they had been involved in the fight, Gittens said.
Police detained the four but when they went to speak with the first group, who had fingered the four apparent suspects, they had all left, he said.
Copyright © 2007 by Bay City News, Inc. -- Republication, Rebroadcast or any other Reuse without the express written consent of Bay City News, Inc. is prohibited.
####