France honored on 217th anniversary of Bastille Day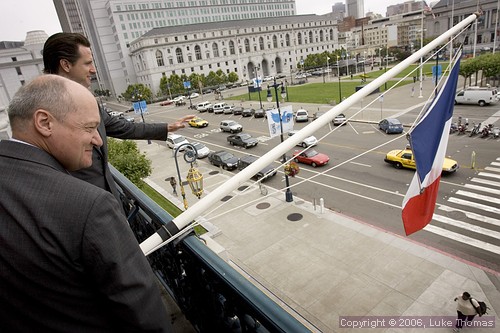 French flag unfurled over San Francisco City Hall by Mayor Gavin Newsom
and French Consulate General Frederic Desagneaux.
Photo(s) by Luke Thomas
July 14, 2006
Today officially became French-American Friendship Day in San Francisco as the flag of France waved over City Hall some 217 years after Bastille Prison was stormed to break free a French Republic.
French community dignitaries gathered in the International Room of City Hall prior to raising the French Flag.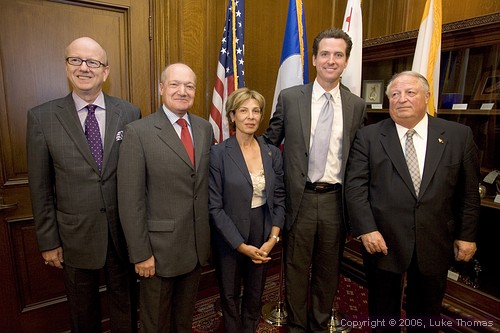 France - America's first ally - was represented for French-American Friendship Day with officials gathered including Tom Horn, chairman of the San Francisco-Paris Sister City Committee; Frederic Desagneaux, French Consulate General stationed in San Francisco; Dalal Desagneaux, wife of the Consulate General; San Francisco Mayor Gavin Newsom; and Andre Fournier, San Francisco President of Confrerie de la Chaine des Rotisseurs.
French Consulate General Frederic Desagneaux pointed to a long history of French presence in San Francisco.
"We are celebrating French-San Francisco friendship and history," began Desagneaux.
"The French presence here goes back to old times being in the City but we are looking forward to the future as our community is ever growing.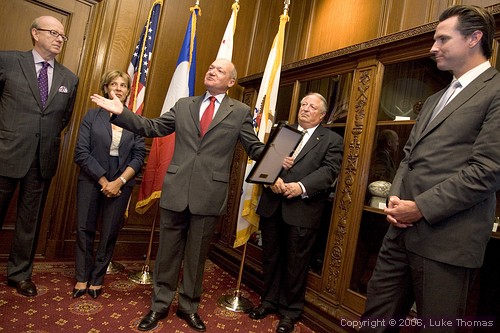 "There have been many French in the history of San Francisco... which we have many occasions to witness and to celebrate today.
"Also our schools expanding. The French... have just purchased a new campus here in the City and the companies are establishing headquarters here in San Francisco.
"As you know, when the mayor of Paris was here a couple of months ago he really decided to give a new impetus to corporations establishing here and we are looking forward to those developments."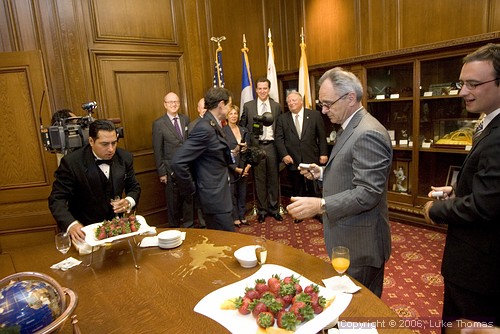 Glasses were overturned, broken, and contents spilled - three times - as anticipated formalities began, by both French and American enthusiasts.
####