Bates to seek re-election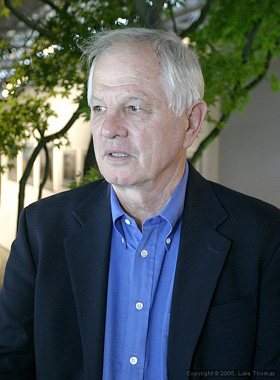 Tom Bates
By Jeff Shuttleworth, Bay City News Service
February 14, 2006
BERKELEY (BCN) - Berkeley Mayor Tom Bates announced at a speech at City Hall today that he will run for re-election in November.
The next mayoral term will be for only two years, as Berkeley voters approved a one-time format change in order to have the mayor's race on the ballot in presidential election years, when more voters turn out.
The term will revert to four years in 2008, when there will be another mayoral election.
Bates, who defeated two-term former Mayor Shirley Dean in a close race in 2002, said that in his three years in office, his administration has provided thousands of Berkeley school children with tutors and mentors.
He said Berkeley leads the nation in greenhouse gas reductions, is a world environmental leader and has approved more than 1,400 new units of housing, including more than 500 new affordable apartments and condos.
Bates also said he and the City Council balanced the budget after three years of what he described as "the worst budget crisis ever to face this city."
Bates said nearly 200 elected officials and community leaders have endorsed his re-election bid, including Congresswoman Barbara Lee, D-Oakland, his wife, Assemblywoman and former Berkeley Mayor Loni Hancock, Alameda County Supervisor Keith Carson and 14 current and former members of the City Council.
Reached at home, Dean declined to talk about Bates' announcement or about whether she plans to run for mayor again.
"No comment," she said.
Bates' chief of staff, Cisco DeVries, said Bates hasn't decided whether he will seek another four-year term in 2008 if he's re elected this year.
Immediately after his announcement, Bates filed his formal "notice of intent" to run for re-election with the City Clerk.
The notice of intent is required before any candidate for public office can raise or spend campaign funds.
Formal filing for mayoral candidates doesn't take place until August.
Copyright © 2006 by Bay City News, Inc. -- Republication, Rebroadcast or any other Reuse without the express written consent of Bay City News, Inc. is prohibited.
####