Supes consider violence independent of Newsom efforts Monday

Minister claims Newsom gave okay
to rejected police plan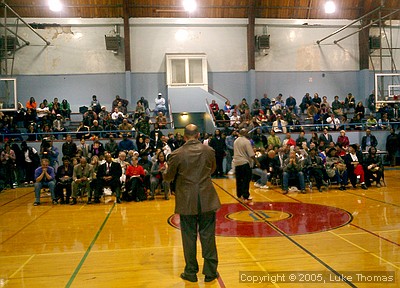 Photo(s) by Luke Thomas
By Pat Murphy and Luke Thomas
Copyright fogcityjournal.com 2005
December 9, 2005, 9:30 a.m.
A newly created committee of the Board of Supervisors convenes for the first time Monday considering possible solutions to street violence.
Supervisor Sophie Maxwell asked establishment of the new committee as a means to consider the issue independently of the Newsom administration.
The 10:00 a.m. hearing by the Select Committee on Ending Gun and Gang violence comes on the heels of a police department rocked by racially tinged scandal, and splintering efforts to reshape the department toward community policing.
This morning Mayor Gavin Newsom will be asked to clarify his position on proposed community policing guidelines, Minister Christopher Muhammad said last night in a Bayview townhall meeting.
Muhammad chairs the African American Community Police Relations Board (AACPRB) which drafted guidelines rejected by Police Chief Heather Fong on December 6.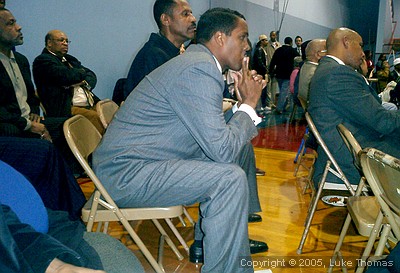 Minister Chrisopher Muhammad seated following
his address to attendees at the Bayview townhall meeting.
Neither the mayor nor the police chief had agreed to the guidelines (see full guidelines below), mayoral press secretary Peter Ragone reported December 6.
Muhammad insists Newsom gave his approval to AACPRB guidelines more than once, and as recently as early this week.
That meeting took place in the mayor's office after Newsom returned from China, Muhammad told the Sentinel Thursday.
"The Mayor said to me and others personally that he supports this plan," Muhammad told close to 300 gathered for the townhall meeting last night.
"But I see in the Examiner today that his spokesman says the mayor rejected the whole document."
One of the guidelines would take appointment authority away from District police captains, and give appointment power of community policing lieutenants to Con Johnson, as San Francisco police lieutenant serving as director of Community Connect.
Muhammad called for use of a scheduled 11:00 a.m. City Hall Rotunda by the San Francisco Interfaith Council as vehicle for asking clarification from mayor's office.
"We have respect for the African American community board, and we'll have our conversations with them on this topic privately," Ragone told the Sentinel last night.
While speaking, Muhammad took the microphone to both Supervisor Sophie Maxwell and to Reverend Amos Brown asking if they support AACPRB guidelines.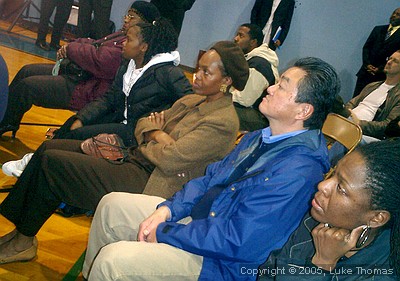 Supervisor Sophie Maxwell in beret listens intently.
"I haven't heard anything that makes me change my support," responded Maxwell. Brown agreed those guidelines should be adopted in their entirety.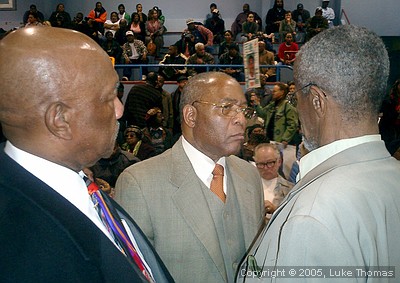 Reverend Amos Brown, center, discussing whether
Bay View Newspaper publisher Willie Ratcliff
would be allowed to speak.
Another faith community leader threw support to Newsom and Fong.
"We decided that believe that the honorable mayor of this city, Mayor Newsom, is seriously concerned with this issue," Reverend Arelious Walker said.
"He went into this neighborhood many times. He went into our homes as a private citizen. He put himself in danger, I believe, in real concern about the problems of this community," stated Walker.
The townhall on backdrop of some 20 police officers being suspended for participating in a video production termed "sexist, racist, and homophobic" by Newsom and Fong Wednesday.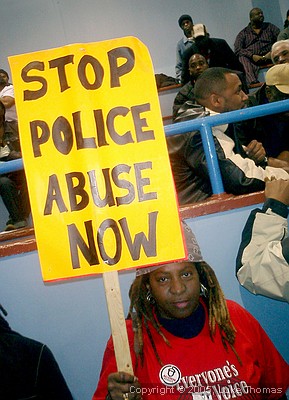 "Secondly, I believe that Police Chief Heather Fong is seriously concerned about this issue," Walker continued.
"That video was an attack on the entire city…and we saw that Chief Fong suspended those officers.
"We support Mayor Newsom and Chief Heather Fong," stressed Walker.

AACPRB GUIDELINES
Duties and Responsibilities of the Community Policing and Recruitment Services Unit.
Director Con Johnson will be in charge of the Community Policing & Recruitment Services Unit, which will move ahead with the department's new strategy to building trust and communication with the community. His primary role will be to help establish and implement ten district based community-policing plans that meet the approval of the diverse communities throughout San Francisco.
The duties and responsibilities shall include, but not be limited to the following:
- Director Con Johnson shall be in charge of selecting, training, certifying and coordinating the 20 designated community-policing lieutenants at the district stations and providing leadership to them by assisting them in obtaining resources, arranging meetings, etc. Director Con Johnson shall be responsible for overseeing the department community policing plans by ensuring that the certified community policing lieutenants are accountable for executing all community-policing policies, procedures, programs and training.
- Director Con Johnson shall report directly to the Chief of Police.
- Director Con Johnson shall have offices both at the Hall of Justice and City Hall, Mayor's Office of Criminal Justice.
- Director Con Johnson shall ensure that every community policing lieutenants undergo a comprehensive cultural competency and community policing certification process.
- Under the guidance and direction of Director Con Johnson, the 20 certified community-policing lieutenants are liaisons to the community and have responsibility for implementing the community policing policies, procedures, programs and training. Director Con Johnson shall ensure that these lieutenants oversee the training curriculum for all police officers assigned to their command at their respective districts. They serve as the direct connection between the community and the district stations and are culturally trained and sensitive to each individual neighborhood.
- Director Con Johnson shall be responsible for developing, updating and reviewing community policing training procedures for new recruits and all existing police officers through ongoing in-service training and roll call training. This will serve as a tool to inform police officers throughout the city of new community policing policies and initiatives.
- Director Con Johnson shall be responsible for reviewing existing departmental documentation (e.g., community policing manuals, bulletins, worksheets, resource cards, etc.) to determine what changes, updating and the like are needed to make them more current, relevant and helpful.
- Director Con Johnson shall work with various entities, both inside and outside the department, to increase the participation of all communities and non-profit agencies tasked to engage the community.
- Director Con Johnson shall convene and facilitate weekly meetings with all 20 lieutenants. These meetings shall also include a member of the San Francisco Police Department Command Staff (Field Operation Bureau) and the Mayor's Deputy Chief of Staff Alex Tourk. These meetings, which will rotate among the various district station community rooms, are intended to serve as a forum to discuss best practices, give district updates, share information and keep everyone engaged and create accountability.
- Director Con Johnson shall work closely with the various community-based organizations to ensure they are meeting specified criteria for community policing and crime prevention and verify that they are assisting in each district based strategy.
- Director Con Johnson shall work closely with public, private and non-profit organizations in order to develop and implement district based planning and strategies.
- Director Con Johnson shall attend weekly meetings with the African American Community Police Relations Board to provide updates and create accountability.
- Director Con Johnson shall meet with the Chief of Police and the Mayor's Deputy Chief of Staff on a regularly scheduled, bi-weekly basis, in order to update them on progress being made on community policing initiatives, to seek their input, and to report any concerns or recommendations.
- Director Con Johnson shall participate in all ten planning sessions involving the SFPD, the community and City agencies. The goal of these planning sessions is to reach consensus and a "signing off" on comprehensive plan will begin with a framework of five issues.
These issues are:
- Beat patrol schedule and strategy.
- Public health response in aftermath of violent crime.
- Neighborhood needs assessment.
- Communication protocol.
- Updated training documents

####