City announces unprecedented clean public power
to residents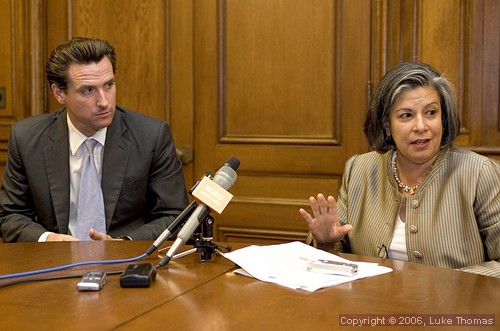 San Francisco Public Utilities general manager Susan Leal and Mayor Newsom detail plan for first-ever delivery of public power to San Francisco residents.
Photo(s) by Luke Thomas
August 12, 2006
The City of San Francisco yesterday announced it will provide clean energy to one Bayview neighborhood and just as quickly got a 'welcome and good luck' from competitor Pacific Gas and Electric Company (PG&E).
City electric service, generated by solar and hydro power, is planned for a 93-acre parcel near the former Hunters Point Naval Shipyard, Susan Leal reported in a press briefing. Leal serves as general manager of the San Francisco Public Utilities Commission (PUC).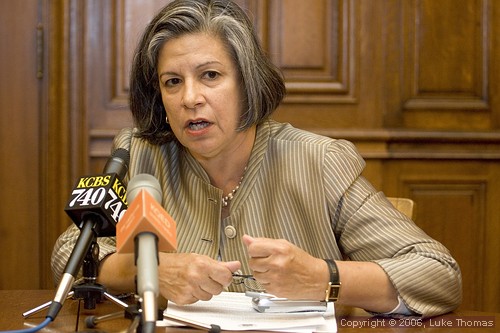 The site will house 1,600 residential units and 300,000 square feet of commercial and retail space. Lennar-Bayview Hunters Point (Lennar BVHP) development corporation is about to begin construction of the center.
Residential units will open for occupancy in March or April of 2007, Mayor Newsom noted.
"The idea of providing power through the PUC has long been debated in San Francisco," said Newsom.
"Here today we are announcing our desire, through Susan Leal's great leadership of the PUC, to create a green power community in the Bayview Hunters Point community.
"Here's our opportunity to deliver power that is 100% renewable - here's our opportunity to deliver power to a community that's been ravaged by environmental injustice."
Although the City currently provides 20% of all San Francisco electric service, Leal explained, the 'Green Power Community' plan is the first City attempt to provide electric service to residences.
"Right now with this we are proposing to provide power to residents of San Francisco," Leal continued.
"Right now we provide it all these public buildings but we will now provide it to residents."
City owned offices, police and fire stations, as well as City Hall receive electric power from the PUC.
Providing clean energy to the Bayview community outweighed consideration of the plan being "public power," Leal reflected.
"The issue here is not so much about public power, even though that's important, but... I think the important thing here is we are providing... a green community.
"We have everything together to make a community that is not only a green community but it's reliable power, and it will be at a price and meets or beats PG&E's price."
The PG&E transmission network will be used for City energy delivery. The PUC filed an application yesterday with PG&E for use of the network.
The application must be accepted by PG&E, Leal added, but PG&E is free to compete for Lennar BFHP selection of either service provider.
City use of PG&E transmission lines must be approved by the Federal Energy Regulatory Commission.
Shortly after the City announcement, PG&E spokespeople indicated the utility will compete for Lennar BVHP selection.
Tom King, president and chief executive officer of PG&E, issued a statement welcoming the City "to a tough business."
"San Francisco is our home city and we invite Mayor Newsom and his team to partner with us to create a green power infrastructure that will make San Francisco the model for the world," King began his statement
"Given the City's decision to use City resources and energy to create a public power utility, then all we can say is -- Congratulations and welcome to a tough business.
"We will continue to serve our customers and potential customers and focus on the real need at hand, which is to develop solutions to climate change.
"We will continue our role in environmental leadership and provide clean, green, and reliable power to San Francisco."
A PG&E vice president said the utility shares the City goal of greening the new Bayview neighborhood.
"The mayor has set out a vision... about making that area, that development totally green," Nancy McFadden told the Sentinel. She serves as PG&E vice president of governmental relations.
"That's the mayor's vision and that's what the PUC has said it is going to do.
"We are in complete line with that. I mean we want to have a partnership with the City to be green and so our plans were to make that be a green energy development.
"The work that we've done to close down Hunters Point Power Plant and I think the work that you'll see us doing in terms of bringing people in from the community to work on the demolition of that plant, and the development of that area, is only going to reinforce our word about working on making this City green."

####