Legendary Sarah Vaughan dress auction benefit
funds Bayview Hunters Point global arts program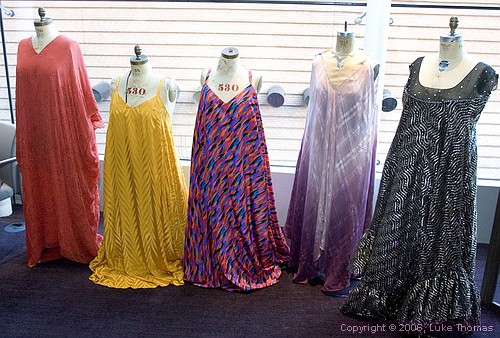 Photo(s) by Luke Thomas
April 28, 2006
Judith Blackwell twirls in a dress once worn by famous jazz singer Sarah Vaughan. The lovely chiffon dress, in a winter shade of peach, is adorned with gold-toned crystals along the plunging neckline and spaghetti straps.
"I feel like I'm wearing both history and glamour," Blackwell said.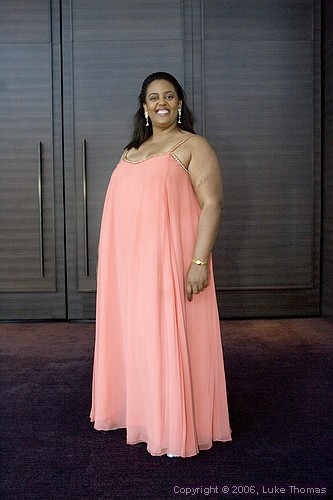 Judith Blackwell
And someone else might too because Blackwell's gown was one of the jazz singer's six gowns that was auctioned off during "A Divine Affair," a Bayview Opera House fundraiser Thursday night at the St. Regis Hotel.
Blackwell, a board member of the Bayview Opera House, said the money raised at the event will help fund the opera's global arts program.
The event raised over $13,000 to help bring 15 children from the Bayview Hunters Point area on a 14 day trip to Senegal and France this June, said Shelley Bradford-Bell, Bayview Opera House executive director.
"Tonight's auction is a launching pad to make this program into an ongoing annual program," Bradford-Bell told the Sentinel.
The Bayview Opera House started the global arts program after Sept. 11, at a time when people were still intimated about flying, Bradford-Bell said. In 2004, the program brought ten children to France and Senegal. Five children from the previous program will be participating in this year's trip.
"This is a positive cultural experience that these kids don't get in their classrooms and an experience that they should be exposed to," said Francisco Castillo, board member of the Bayview Opera House.
A three-person documentary team will accompany the children as it did in 2004, Bradford-Bell said. Director Susan Brown will be using footage from the first trip and this year's trip to develop a documentary called "Listen to the Children."
"Even though these children come from a place with limited experience to the world, they are very open-minded and willing to learn," Brown said.
The students' art projects from the Bayview Opera House art program will be exhibited in both France and Senegal during the trip.
This year's trip will cost $225,000 that includes required immunization shots, passports, meals and airfare.
Fundraisers such as "A Divine Affair", as well as generous donations to the opera house, will fund the trip. The Scarborough Insurance Agency pledged $25,000 to the program.
"What the organization is doing is absolutely fantastic," agency president Fred Naranjo said.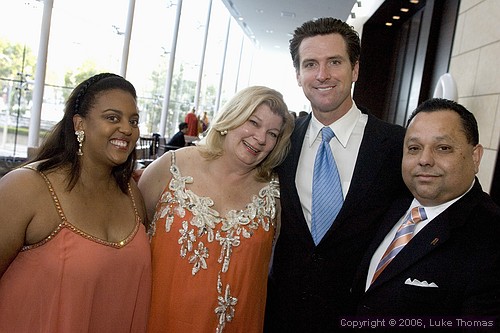 Judith Blackwell, Susan Horsfall, Mayor Gavin Newsom and Fred Naranjo
Janice Salaman and her husband Jay donated the Vaughan dresses for the auction. Janice, an interior designer, said she bought the dresses from an auction last year and decided to donate the dresses six months ago.
"I wanted to find a way to serve Vaughan's community," Janice Salaman said. "Travel has always opened my eyes to the world. The kids from the Bayview will be able to open their eyes to new perspectives of the world through this experience."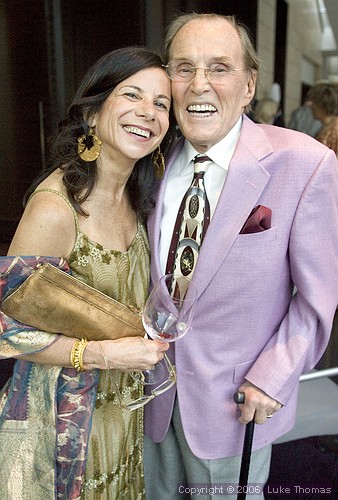 Janice and Jay Salaman
Many major city officials attended the event, including District Attorney Kamala Harris, Mayor Gavin Newsom and State Assemblyman Mark Leno.
"This is a divine affair in honor of a divine woman," Leno said. "This organization is funding what our state has not funding and that is good art programs that empower youth."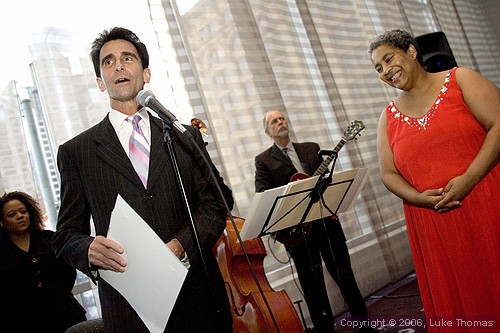 Assembymember Mark Leno and Shelley Bradford-Bell
Supervisor Fiona Ma said the Bayview Opera House is one of her favorite organizations to support.
"The African American population in the city has been dwindling and we need to do what we can to support the community," Ma said.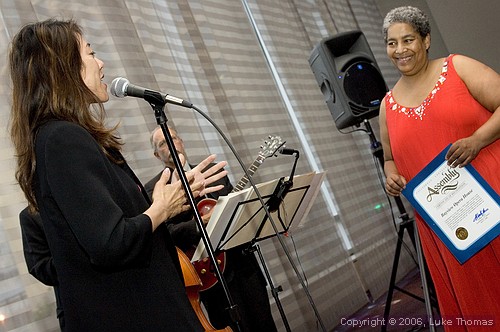 Supervisor Fiona Ma (left)
The event also auctioned off lunch with Public Defender Jeff Adachi at the Washington Square Bar and Grill, with District Attoryney Kamala Harris at MoMos, and dinner with famous reporter Warren Hinckle. A painting of Sarah Vaughan by local artist Wanda Whitaker sold for $900.
Local realtor Beatrice Jackson-Henry bought the Sarah Vaughan dress Blackwell wore for $275. Jackson-Henry said she wants to frame the dress as a tribute to the jazz legend.
"It's for a great cause and I got something good for myself," Jackson-Henry said. "It's a win-win situation for all."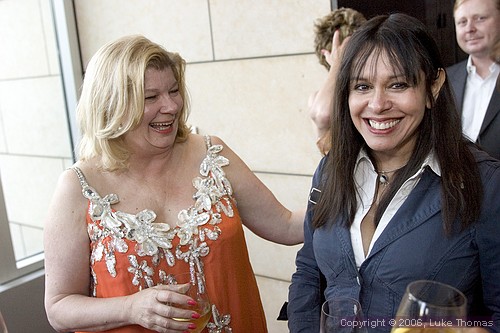 Civil Service Commissioner Alicia Becerril (right).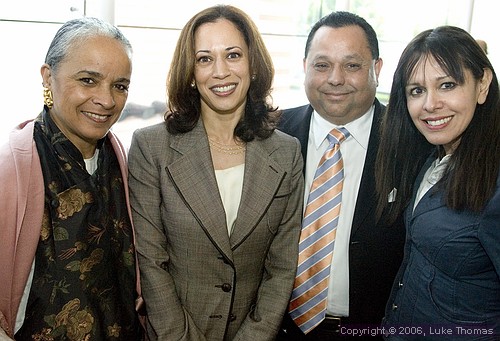 District Attorney Kamala Harris (2nd from left)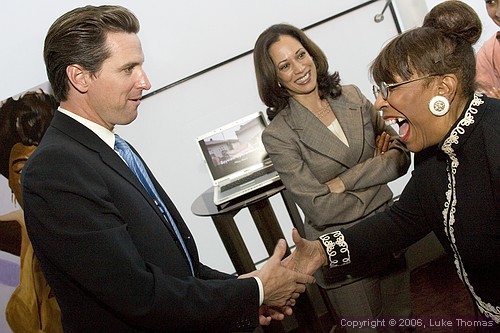 Doris Ward (right)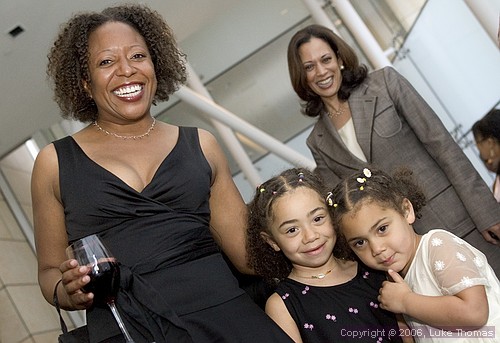 Nicole K. Grigg, Nina Sophia Grigg, Camille Grigg and District Attorney Kamala Harris
####