San Francisco courtroom cleared
in 1971 cop-killing arraignment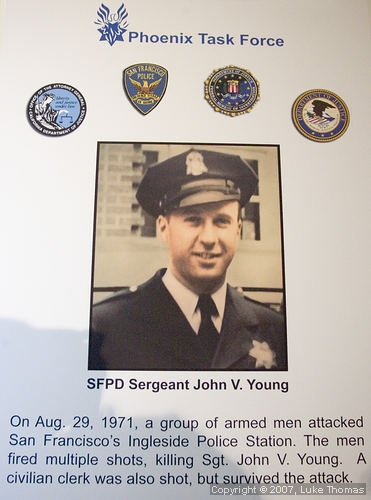 Photo(s) by Luke Thomas
By Brent Begin, Bay City News Service

February 14, 2007
SAN FRANCISCO (BCN) - A judge cleared a San Francisco courtroom this morning after the audience cheered four men accused of conspiracy and murder in a Black Liberation Army attack on the city's police over 35 years ago.
The onlookers, some in wheelchairs and many walking with canes, jammed the courtroom and erupted in applause against Superior Court Judge Donna Alyson Little's orders. Bailiffs escorted the defiant crowd outside the courtroom where they began to chant, "No justice, no peace."
After attorney objections to closing a public hearing, however, Little allowed the onlookers to file in, threatening to bar individuals permanently of they further disrupted the court.
Ray Michael Boudreaux, 64, Richard Brown, 65, and Henry Jones, 71, did not enter pleas today on charges of murdering San Francisco police Sgt. John Young at the Ingleside police station on the night of Aug. 29, 1971.
Richard O'Neal, a 57-year-old San Francisco resident, is not charged in the death of Young, but he is being prosecuted alongside the other men on conspiracy charges. He also did not enter a plea today.
Attorneys for the men say their clients are hard-working members of society and that the case is a sham. All joined today in a motion to dismiss the case.
The lawyers also objected to the shackling of their clients, stating that there is no reason to believe they are dangerous. The courtroom was filled with several sheriff's deputies, and outside there was more security, including several San Francisco police officers.
The judge agreed that the four men were honest members of the community with clean criminal backgrounds in the last decades. She said the shackles could come off for the next hearing, scheduled for March 13, if the sheriff's department agrees.
Little also lowered the bail of two men so that all four defendants are held on $3 million.
State prosecutors objected, stating the serious nature of the crime. They say eight men are responsible for the cold-blooded military-style attack on Young and a civilian clerk at the police station.
Also charged in the case are Herman Bell, 59, and Anthony Bottom, 55, who are both in custody in New York; Francisco Torres, 58; Harold Taylor, 58; and Ronald Stanley Bridgeforth, 62. Bridgeforth is currently at large.
Copyright © 2007 by Bay City News, Inc. -- Republication, Rebroadcast or any other Reuse without the express written consent of Bay City News, Inc. is prohibited.
####