Santa Clara City Council to hear more from 49ers about stadium proposal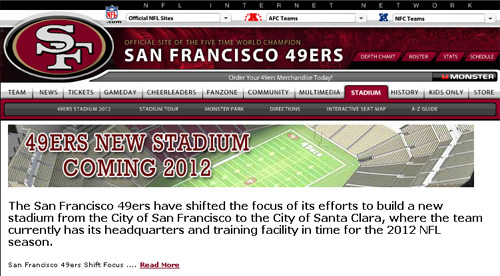 Screenshot courtesy 49ers.com
By Jason Bennert

April 23, 2007
The San Francisco 49ers are scheduled to present their proposed stadium cost estimate and financing plan to the Santa Clara City Council on Tuesday night and the council is already hearing concerns from residents, according to the city manager's office.
Public correspondence sent to the Santa Clara City Council about the proposed stadium deal is running almost four-to-one either against the proposal or expressing concerns about it, according to a memo sent to the council.
Between November and April 19, 12 letters, emails or phone messages in favor of the stadium proposal and 43 either opposed to it or expressing concern about it were sent to the council, according to the memo signed by City Manager Jennifer Sparacino and Deputy City Manager Carol McCarthy.
However McCarthy believes that letters, emails and phone messages from stadium supporters will ultimately catch up.
""I'm expecting a flurry of those,'' McCarthy said.
The team is not releasing its proposal in advance of the meeting. According to media reports, the 49ers are expected to ask for a public contribution from Santa Clara of approximately $180 million of the estimated $800-$950 million stadium cost.
The city council meeting is scheduled for 7 p.m. at Santa Clara City Hall, 1500 Warburton Avenue in Santa Clara.
Copyright © 2007 by Bay City News, Inc. -- Republication, Rebroadcast or any other Reuse without the express written consent of Bay City News, Inc. is prohibited.
####