Santa Clara asked to pay $160 million
for new 49ers stadium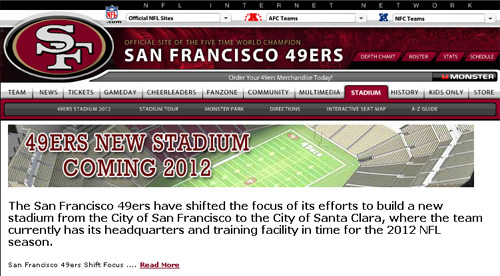 Screenshot courtesy 49ers.com
By Jason Bennert

April 25, 2007
Santa Clara could find itself the owner of a shiny new football stadium with a five-time Super Bowl winning team as its primary tenant in 2012 and all it would take is a $160 million contribution, building a new parking garage and spending between $20-$30 million to move a power substation currently located on the proposed stadium site, San Francisco 49ers officials told the Santa Clara City Council Tuesday.
The 49ers estimate that the stadium will cost $854 million but said the city's contribution would not exceed the $160 million and the cost of moving the substation and constructing a parking garage on the south side of Tasman Drive.
"The 49ers are going to assume the risk of cost overruns and inflation," Jed York, scion of team owners Denise DeBartolo York and John York, told the council.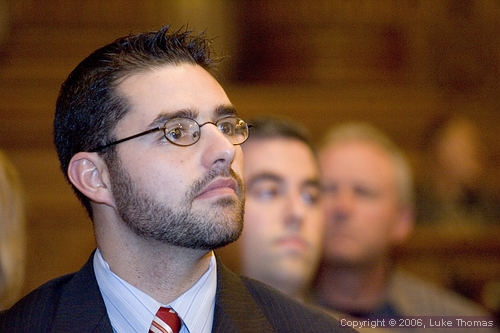 Jed York
The team did not offer a suggestion to the council as to where the city would get its $160 million contribution.
"There is going to be a public equity investment. The source of that equity is going to be left up to the council," York said.
49ers Chief Financial Officer Larry MacNeil told the council that the team needs a decision from the council within a few months because if preliminary work does not begin this summer the team would have to adjust its cost estimate and potentially the city would need increase its contribution.
"We realistically need to start an EIR in July or August," MacNeil said. "We'd look for the council to make a decision on this proposal sometime in the next two or three months."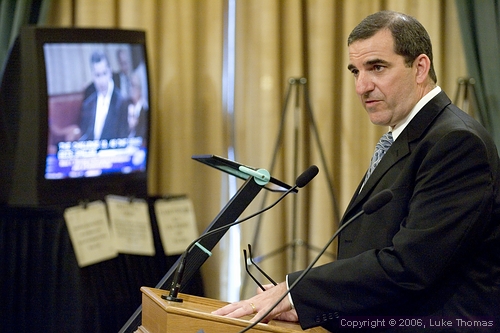 Larry MacNeil
City Manager Jennifer Sparacino cautioned the council, saying a two or three month schedule is "ambitious."
The council voted unanimously to refer the 49ers proposal to the city staff for a full review. The council did not schedule a future date for a vote on the proposal.
Copyright © 2007 by Bay City News, Inc. -- Republication, Rebroadcast or any other Reuse without the express written consent of Bay City News, Inc. is prohibited.
####