Santa Clara City Council hears impacts
of 49ers parking proposal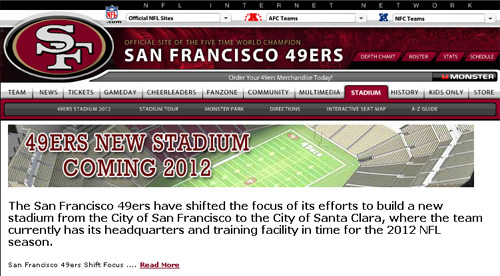 Screenshot courtesy 49ers.com
By Jeremy Lipps

May 30, 2007
The Santa Clara City Council heard options yesterday regarding the impacts of a proposed 49er parking structure and the implications of the Tasman electric substation that sits in the way.
Santa Clara City Engineer Rajeev Batra said Santa Clara first looked into building a new five-level parking structure in 1999. It was determined for $42 million the city could build a 2,600 vehicle capacity parking lot connected to the Santa Clara Convention Center by a bridge.
That plan was updated in 2001 with 1,890 spaces with a cost of $32.7 million. The plan was further updated in 2003, put on hold in July, 2003, updated again in July, 2006 and finally put on hold again in 2007 for the 49ers proposal.
The total cost for all this evaluation and planning has reached $458,000, which would likely be lost if the council decides to move the originally proposed parking lot to another location on the current convention center parking lot.
Time spent on soil reports, environmental impact reports and design development would also be lost. To finish construction on a new parking lot would take another 34 months plus time to clear more environment impact reports, according to Batra.
City Manager Jennifer Sparacino added that the redevelopment agency had earmarked $41.7 million for a garage and that it is still a possibility to build a new garage.
The sharing of parking by the 49ers and Great America was also mentioned as a small hurdle. Approximately 1,700 spaces would be impacted by the new structure and would need approval from Cedar Fair, who owns Great America.
In addition, it's possible that up to six games and other events at the proposed stadium would encroach on Great America's season, impacting the availability of parking for both venues.
Director of Electric Utilities Junona Jonas addressed the second issue relating to the proposed parking plans, the Tasman substation. The Tasman substation sits in the northeast corner of the convention center's overflow parking lot at Tasman Drive and poses several problems for a new parking lot.
To move it across San Tomas Creek to an area adjacent to the 49ers training center, according to the most expensive plan presented, would cost $20 million in construction, modification and demolition and would take 30 months.
One option was to use less of the same land. Another plan called to relocate the substation to another spot on the Great America parking lot.
Each plan called for reconstruction with similar price tags.
The council also looked at voting timelines and meeting dates for when and how to schedule key deciding dates in the future.
No decisions were made at the meeting.
Copyright © 2007 by Bay City News, Inc. -- Republication, Rebroadcast or any other Reuse without the express written consent of Bay City News, Inc. is prohibited.
####