Ship engineers accused of hiding discharges of oil into ocean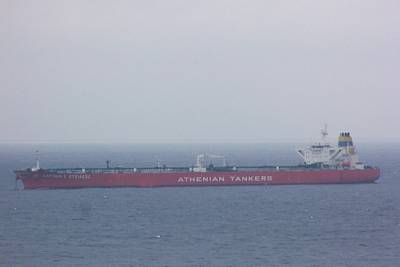 Captain X Kyriakou oil tanker
Photo courtesy Sea and Ships

By Julia Cheever, Bay City News Service

December14, 2006
SAN FRANCISCO (BCN) - Two oil tanker engineers have been indicted by a federal grand jury in San Francisco on charges of falsifying a ship's log to hide illegal discharges of polluting sludge and waste oil into the ocean.
Artemios Maniatis, 55, and Dmitrios Georgakoudis, 29, both Greek citizens, were the chief engineer and first engineer of the M/T Captain X Kyriakou, an oil tanker registered in the Marshall Islands, owned by a Liberian company and operated by a Greek company.
They are scheduled to have an initial court appearance before U.S. Magistrate Bernard Zimmerman in San Francisco on Thursday.
The two engineers were indicted Tuesday on one count of violating the U.S. Act to Prevent Pollution from Ships by falsifying a ship's log known as an Oil Record Book between Oct. 27 and Nov. 2.
The indictment alleges they failed to disclose in the log that the tanker routinely discharged sludge and bilge water contaminated with fuel oil and engine lubrication oil.
U.S. Attorney Kevin Ryan said a U.S. Coast Guard inspection of the ship last month revealed that a pipe known in the shipping trade as a "magic pipe" was used to bypass pollution control equipment and allow the ship's sludge and oily bilge water to be sent directly overboard.
The U.S. pollution law makes it a crime to violate an international marine pollution prevention treaty known as MARPOL.
The treaty bars ships from discharging oily water in greater concentrations than 15 parts per million and requires ship operators to use pollution prevention equipment and keep accurate Oil Record Books.
Ryan said the investigation began when a tanker crew member called the Coast Guard National Response Center on Nov. 1 and said he was routinely ordered to discharge oil overboard.
The maximum penalty for the charge upon conviction is 10 years in prison, but the actual penalty, if the defendants are convicted, would be determined after consultation of federal sentencing guidelines.
Ryan said prosecutors are continuing to investigate the tanker's owner, Free Seas Shipping Ltd., based in Monrovia, Liberia, and its operator, Athenian Sea Carriers Ltd. of Athens, Greece.
Copyright © 2006 by Bay City News, Inc. -- Republication, Rebroadcast or any other Reuse without the express written consent of Bay City News, Inc. is prohibited.

####