Leno marriage equality bill approved
by assembly judiciary committee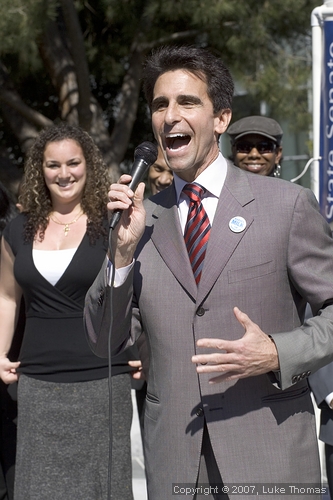 Assemblymember Mark Leno (file photo)
Photo(s) by Luke Thomas
By Tamara Barak, Bay City News Service

April 10, 2007
Supporters of legalizing same-sex marriage in California are celebrating today after the Assembly Judiciary Committee passed a bill that amends the definition of marriage.
Assembly Bill 43, the Religious Freedom and Civil Marriage Protection Act, passed today with a 7-3 vote.
AB43 seeks to amend a section of the Family Code to define marriage as a civil contract between two people - instead of between a man and a woman. The bill also reaffirms that no religious institution would ever be required to solemnize marriages contrary to its fundamental beliefs.
Assemblyman Mark Leno, D-San Francisco, authored the bill along with 29 assembly members and 14 state senators.
"Our march toward marriage equality continues with another victory today," Leno said in a written statement. "We will not stop until all citizens are afforded their constitutional right to marry the person they love and raise their families with the respect, dignity and validation which are their birthright."
The measure is sponsored by Equality California, a statewide civil rights organization that fights discrimination based on sexual orientation.
"Two people in a committed, trusting relationship deserve the honor and social support that comes with marriage," Equality California Executive Director Geoff Kors said in a statement today. "Denying someone the opportunity to marry the person he or she loves hurts couples and families that are dedicated to building their lives together."
Copyright © 2007 by Bay City News, Inc. -- Republication, Rebroadcast or any other Reuse without the express written consent of Bay City News, Inc. is prohibited.
####