Ackerman sues San Francisco School District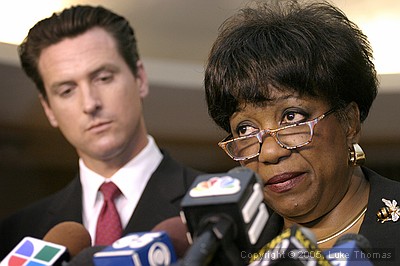 Former San Francisco Unified School District Superintendent Arlene Ackerman
filed a lawsuit against the school district seeking $172,000 in damages
for non-payment of salary.
Photo(s) by Luke Thomas
By Tamara Barak

May 19, 2007
Former San Francisco schools chief Arlene Ackerman yesterday filed a lawsuit against the San Francisco Unified School District, claiming it failed to pay her severance compensation.
The lawsuit is asking for more than $172,0000 in damages for nonpayment of salary.
The embattled superintendent was forced to resign in June, 2006 after the Board of Education invoked a compatibility clause in her contract acknowledging that the school board and Ackerman agree they are incompatible.
Ackerman was praised for raising student achievement and cutting waste in the district's budget, but came under fire for her personal style - which critics said excluded parents and teachers from decision-making.
Ackerman is being represented in the lawsuit by San Francisco attorney Waukeen McCoy.
"It's unfortunate that someone who has done so much for the city of San Francisco and its schools should be treated this way be a vindictive school board, despite her stellar record of improving test scores in our schools, and the clear language of her contract," McCoy said in a written statement.
The lawsuit was filed in San Francisco Superior Court yesterday, according to McCoy.
Copyright © 2007 by Bay City News, Inc. -- Republication, Rebroadcast or any other Reuse without the express written consent of Bay City News, Inc. is prohibited.
####