Stanford professor Fire wins Nobel Prize
in medicine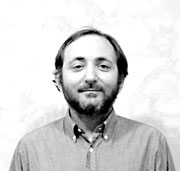 Andrew Fire
Photo courtesy Stanford University
By Anna Molin, Bay City News Service
October 2, 2006
STANFORD (BCN) - Stanford University Professor of Pathology and Genetics Andrew Fire won the 2006 Nobel Prize in Physiology or Medicine today for discovering a mechanism that turns off, or silences, the effect of certain genes, thereby introducing potential new opportunities for fighting diseases as varied as cancer, heart disease, HIV and hepatitis.
Fire, 47, shares the honor and $1.4 million Swedish prize with Craig Mello, 45, of the University of Massachusetts Medical School in Worcester, Mass.
"I was very happy," Fire told Swedish Radio, minutes after being notified. "At first, of course, I couldn't believe it -- I could be dreaming or it could be a mistake or something like that -- but I guess it's not. And it's very nice."
The process, RNA interference, or RNAi, occurs naturally in animals, plants and humans to regulate gene expression and ward off viral infections and so called jumping genes.
The mechanism is activated when double-stranded RNA is inserted into a cell, setting off a biological effect that degrades mRNA molecules carrying the same genetic code as the double-stranded RNA. The procedure prevents the gene from producing protein, effectively silencing it.
"Their discovery clarified many confusing and contradictory experimental observations and revealed a natural mechanism for controlling the flow of genetic information," the Nobel Assembly at Karolinska Institutet in Stockholm, Sweden, wrote in today's announcement. "This heralded the start of a new research field."
Fire and Mello published their findings involving RNAi in the journal Nature on Feb. 19, 1998. By experimenting on roundworms with mRNA and RNA molecules encoding a muscle protein, the scientists found no change in behavior when the codes were inserted separately. However, when injected together, the worms began to twitch abnormally. Testing on different worm proteins produced the same results, leading to the conclusion that injection of double-stranded RNA silences the gene containing the identical code, thereby short-circuiting the gene's ability to make protein.
"This is an extraordinary achievement for Andy Fire and Craig Mello, for science and for Stanford," Philip Pizzo, dean of the Stanford School of Medicine, said in a statement. "It serves as an affirmation of the importance of basic fundamental research that yields new insights into important biological mechanisms. Such discoveries not only elucidate new understanding of human biology, but can unfold into new directions that can potentially translate into discoveries of new diagnostic and therapeutic approaches for a variety of human disorders."
RNAi is already frequently used as a research tool in biology and biomedicine, and scientists hope to extend its usage to clinical medicine and agriculture, among other areas.
Recently, a gene causing high blood cholesterol levels was shown to be silenced by treating animals with RNAi, and plans are underway to develop RNAi as a treatment for influenzas, cardiovascular diseases, cancer and endocrine disorders.
Copyright © 2006 by Bay City News, Inc. -- Republication, Rebroadcast or any other Reuse without the express written consent of Bay City News, Inc. is prohibited.

####