Schwarzenneger to visit Tahoe Angora fire
Blaze 44 percent contained
Inmates join effort to extinguish inferno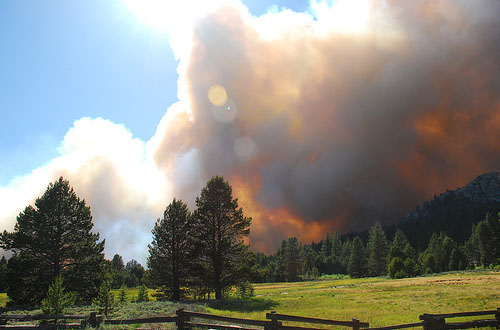 Photo courtesy TheNins
By Laura Dudnick

June 27, 2007
Gov. Arnold Schwarzenegger is scheduled to visit areas damaged by the 3,100-acre fire that is burning in South Lake Tahoe today after he is briefed on the status of the blaze.
Following an 11:15 a.m. briefing and then a tour, Schwarzenegger will hold a press conference at South Lake Tahoe High School at 12 p.m. regarding the Angora Fire, according to his office.
Joining Schwarzenegger on the tour will be Lt. Gov. John Garamendi, California state Sen. Dave Cox, Assemblyman Ted Gaines, El Dorado County Supervisor Norma Santiago, South Lake Tahoe Mayor Kathay Lovell and El Dorado County Sheriff Jeff Neves.
Winds were blowing southwest near the Angora Fire at about 5 mph as of 8 a.m. and are expected to reach 10 mph later this morning, according to the National Weather Service.
This afternoon, winds are anticipated to increase to 15-20 mph with gusts around 35 mph, the National Weather Service said.
The fire is estimated to be 44 percent contained. No additional structure loss is expected, although some 275 structures have already been destroyed.
In addition to firefighters, 330 adult inmates from the California Department of Corrections and Rehabilitation and 32 Division of Juvenile Justice wards are helping fight the blaze.
An additional 1,237 inmates are deployed to fires in Napa, Madera and Kern counties.
The inmates and wards are supervised by CDCR custody staff and are part of the Conservation Camp Program, a rehabilitation program established in 1946.
"For the past 61 years, CDCR has provided the State of California's cooperative agencies with an able bodied, fully trained work force ready to respond to a wildfire at a moment's notice in any part of the state,'' corrections and rehabilitation Secretary James Tilton said.
"The inmate and ward crews provide the muscle in the state's firefighting response, going where bulldozers and heavy equipment cannot go.''
The state carries 42 adult and two juvenile conservation camps, according to the department. More than 4,400 offenders participate in the program, which has approximately 200 fire crews.
The crews report to a number of emergency situations, including wildfires, floods, search and rescue operations and earthquakes.
Only minimum-custody inmates participate in the program. They are required to be physically fit and have no history of violent crime, including kidnapping, sex offenses, arson or escape.
Copyright © 2007 by Bay City News, Inc. -- Republication, Rebroadcast or any other Reuse without the express written consent of Bay City News, Inc. is prohibited.
####