Family of jogger killed in hit-and-run calls for answers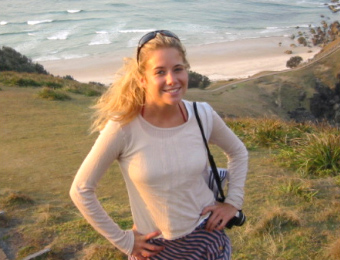 Photo courtesy AshlynDyer.com
By Brent Begin, Bay City News Service

March 13, 2007
SAN FRANCISCO (BCN) - One year after 27-year-old jogger Ashlyn Dyer was killed by a hit and-run driver in San Francisco's Presidio, friends and family continue to suffer their loss and search for the driver responsible.
On the side of a narrow two-lane road where Dyer was killed, mourners left bouquets of lilies, tulips and other bright flowers, along with several orange ribbons, representing her favorite color.
Her father, Bruce Dyer, read a statement in front of the memorial, pleading for new information in the yearlong investigation.
"Sadly, we now believe there would not have been any hope of saving Ashlyn, even if she had immediately been taken to the hospital," he said next to Ashlyn's mother and sister. "We now see that this may have been a unfortunate accident -- maybe the driver didn't even know he struck her at first."
U.S. Park Police have been investigating the incident with the help of the San Francisco Police Department. Investigators believe a large truck struck Dyer, which sent her flying into a sewer grate headfirst.
The collision happened around 6:45 a.m. as many commuters may have been on their way to work. So far, no witnesses have come forward despite a $50,000 reward offered by the family and the city.
"Maybe he is afraid and does not want to come forward," the statement continued. "We'd like to hear his side of the story. We're willing to listen and forgive what could have been an unfortunate mistake."
The site of her death, on Washington Boulevard near Kobbe Avenue, still remains a popular spot for bicyclists and runners despite little room to share the road with the steady flow of vans, trucks and other vehicles.
"We know Ashlyn willingly took a risk running out there at that time of day -- she was a fanatic when it came to jogging," her father read today. "We'd like to bring a resolution to this -- for our family and for the driver. We know he's probably stressed and suffering as well. Ideally, we'd like to meet with him so that we can sit together, and talk about what happened, and move forward. We're asking the driver to just do this for us."
The U.S. Park Police is taking calls from any tipsters at (415) 561-5150. The Dyer family has also set up a Web site for the tips and contributions to a foundation benefiting sufferers of traumatic brain injury at www.ashlyndyer.com
Copyright © 2007 by Bay City News, Inc. -- Republication, Rebroadcast or any other Reuse without the express written consent of Bay City News, Inc. is prohibited.
####