Church leaders, politicians react
to AsianWeek controversy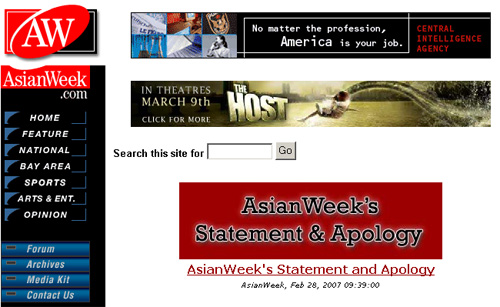 Screenshot courtesy Asianweek.com
By Tamara Barak, Bay City News Service

February 28, 2007
SAN FRANCISCO (BCN) - AsianWeek Editor-at-Large Ted Fang today said the columnist who penned the piece "Why I Hate Black People" last week will not contribute to the free paper's content again.
The controversial column by 22-year-old New York-based Kenneth Eng appeared in the current edition of AsianWeek, which came out Friday.
Fang made the announcement during a news conference this morning at a church in San Francisco's Western Addition neighborhood, where interfaith leaders and politicians denounced the article.
Fang said that for 27 years, AsianWeek has been a leader in minority issues and civil rights.
"We fell down on the job this time. We fell down on the job with Kenneth Eng," Fang said.
Fang said he regretted publishing the column and apologized on behalf of AsianWeek, calling the mistake "the failing of our editorial process."
Fang refused to clarify whether an editor reviewed the column and allowed it to go to press and did not answer questions as to why Eng's previous two columns, "Why I Hate Asians" and "Proof That Whites Inherently Hate Us" had been printed.
"We are humbled and overwhelmed by reader response -- not only chastising our editorial process, but urging us to sever our relationship with Mr. Eng. We have heard the call and Mr. Eng has been suspended," Fang said. The statement prompted several people in the crowd to ask why Eng wasn't being fired, to which Fang responded that Eng would not write for AsianWeek again.
Fang said that while he believed in freedom of expression and of the press, "Hate speech is not appropriate and should not be promoted."
The Rev. Amos Brown, who organized the news conference at the Third Baptist Church, said that as a spiritual leader, he accepted Fang's apology. However, he suggested Eng "should not be dealt with in a cavalier manner."
U.S. House Speaker Nancy Pelosi also weighed in on the matter.
"AsianWeek's recent apology is a step in the right direction. AsianWeek needs to make clear that despite this setback, it will move forward with policies that have no room for hate speech in its publication," Pelosi said in a statement read by an aide at the news conference.
Jeff Louie, senior pastor of the largely Asian Sunset Church, said Eng's views do not represent those of the Asian American community. Louie suggested Eng himself had been the victim of racism, and was responding to it by lashing out at other groups.
"As a minority, we all experience hurt. It's how you choose to respond to negative experiences that sets you apart. Kenneth Eng decided to respond in a very vicious and hateful manner. I abhor that response," Louie said, calling upon all Asian Americans to "take an active and positive approach" to battling discrimination wherever it rears its head.
San Francisco Supervisor Ross Mirkarimi said he and his fellow supervisors were shocked by the column and issued an emergency resolution Tuesday condemning the piece. Mirkarimi said a column titled "Why I Hate Blacks" was especially offensive since San Francisco is losing much of its African American population.
"Next to New Orleans, San Francisco is losing its African American population fastest of any U.S. city. It's a city-wide emergency," he said.
The Rev. Arnold Townsend, who organizes a local roundtable of ministers, said the Bay Area media too often fail to report the positive accomplishments of African Americans, creating an atmosphere in which a racist column could appear.
"(Eng) thought he could get away with it in this town because of how we're portrayed in the media," Townsend said.
Mayor Gavin Newsom did not attend the press conference, but issued a statement condemning the article.
"Inclusion, tolerance, and acceptance of diversity among all people are hallmarks of our way of life in San Francisco. While I recognize free speech rights guaranteed by the First Amendment, hate speech in any form is totally unacceptable in our community. Such statements have no place in a city that is known around the world for civil rights and equality for all people," the mayor said.
Copyright © 2007 by Bay City News, Inc. -- Republication, Rebroadcast or any other Reuse without the express written consent of Bay City News, Inc. is prohibited.
####