Baker's Dozen beating suspect out on bail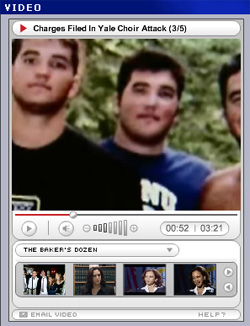 Richard Aicardi (center).
Screenshot courtesy KGO-TV/DT
By Brent Begin, Bay City News

March 8, 2007
SAN FRANCISCO (BCN) - The lawyer representing a man who surrendered to San Francisco police Wednesday on suspicion of beating members of the Baker's Dozen choral group said his client was engaged in a drunken fight, not an "unjustified" beating.
Richard Aicardi is the second of two men to surrender in connection to an early New Year's Day incident that left at least three members of the nationally renowned Yale men's choir group bloodied.
His parents escorted him out of County Jail No. 9 at the Hall of Justice around 1:15 p.m. with a swarm of reporters and cameras following him to their car. His bail was set at $120,000.
His lawyer, Frank Passaglia, said the charges were politically motivated because the victims in the case hired lawyers who were "driving this entire prosecution."
"Without getting into details, the situation, and I think it's going to come out in court eventually, is the fact is that there was a lot of drinking, that the Yalies were every bit as intoxicated if not more than anybody else there," Passaglia said. "There was verbal sparring back and forth, on both sides, for hours."
Passaglia also said that the choir group outnumbered Aicardi and his friends inside a Richmond district home during a New Year's Eve party, and suggested that they "take this thing outside."
Aicardi has been charged with two felony counts of assault, a felony count of battery and an enhancement of causing great bodily harm.
Passaglia said the bail amount was too high because his client is not a flight risk and has no criminal history.
"My client's not going anywhere. He's a native San Franciscan. He lives with his mom and his dad. He goes to school here."
Also charged in the beating is Brian Dwyer, 19, who turned himself in to police in Millbrae around 1 p.m. on Tuesday and was released on $80,000 bail.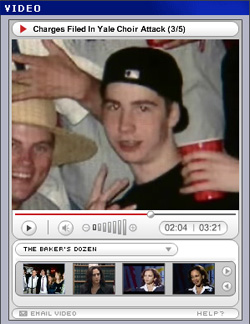 Brian Dwyer
Screenshot courtesy KGO-TV/DT
The named victims were William Bailey and Evan Gogel. Another victim, Sharyar Aziz Jr., was not mentioned in the district attorney's charges though his jaw was broken in two places.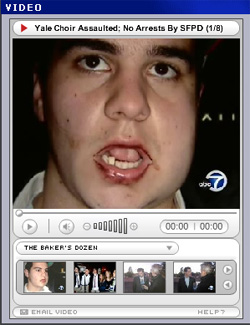 Sharyar Aziz Jr.
Screenshot courtesy KGO-TV/DT
Gogel sustained a concussion and two black eyes and was kicked as lay on the ground, according to the district attorney's office. Bailey was allegedly punched in the face.
District Attorney Kamala Harris charged Aicardi and Dwyer Monday evening and said the beatings were "unjustified." Mayor Gavin Newsom said Tuesday at a news conference that he was happy the charges had been filed.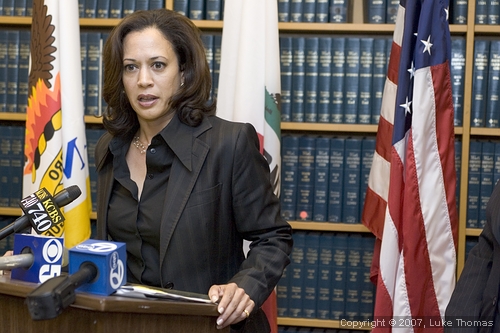 San Francisco District Attorney Kamala Harris
Photo by Luke Thomas
But Passaglia said the Baker's Dozen members were not as innocent as they made themselves out to be.
"They threw plenty of punches," he said. "This was a mutual combat situation. Plenty of punches were thrown by them also."
A date has not yet been set for an arraignment for either Aicardi or Dwyer.
####