Defendant in Baker's Dozen beating pleads not guilty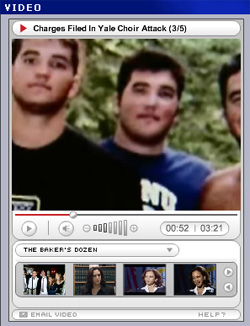 Richard Aicardi (center).
Screenshot courtesy KGO-TV/DT
By Brent Begin, Bay City News

March 9, 2007
SAN FRANCISCO (BCN) - One of two men charged with beating members of the Baker's Dozen choral group outside a New Year's Eve party in San Francisco pleaded not guilty yesterday.
Richard Aicardi, 19, appeared in San Francisco Superior Court around 2:30 p.m. with his lawyer, Frank Passaglia, to enter the plea.
The next court date is scheduled for April 9, when Aicardi is expected to be joined by Brian Dwyer, another 19-year-old also charged with felony assault and battery in the incident.
Passaglia did all the talking for Aicardi during the hearing, and he mentioned that Dwyer is expected to enter a not guilty plea as well.
Dwyer turned himself in to authorities in Millbrae Tuesday.
Aicardi surrendered to San Francisco authorities Wednesday and was released on $120,000 bail.
Passaglia maintains that the charges are "politically motivated" and that his client was only part of mutual combat that came out of a drunken night of reverie.
The named victims were William Bailey and Evan Gogel. Another victim, Sharyar Aziz Jr., was not mentioned in the district attorney's charges though his jaw was broken in two places.
Aziz's father was at today's hearing with attorney Jim Hammer, who criticized the district attorney's office for not charging at least three more combatants in the fight.
"My take is that the police put together a competent case against five suspects, not just two.
Four were caught red-handed that night," Hammer said.
Gogel suffered a concussion and two black eyes and was kicked as lay on the ground, according to the district attorney's office. Bailey was allegedly punched in the face.
District Attorney Kamala Harris charged Aicardi and Dwyer Monday evening and said the beatings were "unjustified."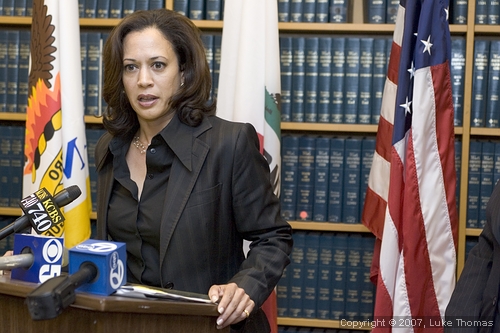 San Francisco District Attorney Kamala Harris
####