Former BALCO lawyer arraigned,
to plead guilty this afternoon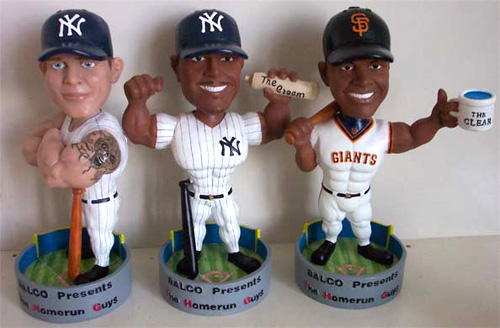 Photo courtesy www.thehomerunguys.com
By Julia Cheever, Bay City News Service

February 15, 2007, 12:00 p.m.
SAN FRANCISCO (BCN) - A former defense lawyer in the BALCO, or Bay Area Laboratory Co Operative, sports steroids case was arraigned in federal court in San Francisco today on charges of leaking confidential grand jury transcripts.
Troy Ellerman, 44, is scheduled to plead guilty to four criminal charges at another hearing this afternoon before U.S. District Judge Jeffrey White.
Ellerman admitted in a proposed plea agreement filed in court Wednesday that he leaked secret grand jury testimony by Giants slugger Barry Bonds and three other athletes to two San Francisco Chronicle reporters in 2004.
The admission appears to mean that reporters Lance Williams and Mark Fainaru-Wada no longer face the threat of going to prison for revealing the source of their information, which was published in the Chronicle in 2004.
At this morning's arraignment, U.S. Magistrate Maria-Elena James informed Ellerman of his rights and allowed him to go free on a $25,000 unsecured bond.
Ellerman entered a not guilty plea, but prosecutor Michael Raphael said outside court that the plea was a formality, entered temporarily until Ellerman's scheduled change of plea before White at 2:30 p.m.
The proposed agreement calls for Ellerman to plead guilty to two counts of contempt of court, one count of making a false statement under oath and one count of obstruction of justice.
Ellerman briefly represented BALCO President Victor Conte and later became the lawyer for BALCO Vice-President James Valente. Both men pleaded guilty in 2005 to giving anabolic steroids to professional athletes.
Conte was sentenced to eight months of confinement and Valente was placed on probation.
Ellerman and the other defense lawyers as well as the BALCO defendants and prosecutors were given copies of the grand jury transcripts and were ordered by U.S. District Judge Susan Illston not to reveal them.
After the Chronicle published excerpts of the transcripts, the Justice Department launched an investigation of the leak at Illston's request.
A Justice Department spokesman said Wednesday that the agency now plans to withdraw subpoenas that had sought to force the two reporters to reveal their source of the transcripts.
Copyright © 2007 by Bay City News, Inc. -- Republication, Rebroadcast or any other Reuse without the express written consent of Bay City News, Inc. is prohibited.
####