BALCO defense lawyer guilty of leaking testimony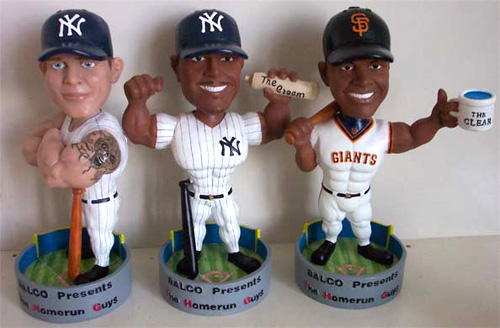 Photo courtesy www.thehomerunguys.com
By Julia Cheever, Bay City News Service

February 16, 2007
SAN FRANCISCO (BCN) - A former defense lawyer in the BALCO, or Bay Area Laboratory Co-Operative, sports steroids case pleaded guilty in federal court in San Francisco Thursday to charges of leaking of grand jury testimony by Barry Bonds and other athletes to two San Francisco Chronicle reporters.
Troy Ellerman, 44, of Woodland Park, Colo., will be sentenced by U.S. District Judge Jeffrey White on June 14.
He pleaded guilty before White to four counts, including obstruction of justice, making a false statement and two counts of contempt of court for disobeying a court order to keep the information secret.
White told Ellerman that his acts "cut to the very core of our criminal justice system."
He said, "Your acts represent corruption of our system by a member of the bar."
The judge said that because of the seriousness of the crimes, he hasn't made up his mind whether to accept a provision of a plea agreement in which prosecutors will seek a sentence of no more than two years in prison.
If White decides Ellerman deserves a heavier sentence, the attorney will be entitled to withdraw the guilty plea and go to trial. The possible maximum sentence for the four counts is 15 years.
Federal prosecutors said that as a result of the plea, they will now seek to end contempt-of court proceedings against reporters Mark Fainaru-Wada and Lance Williams, who faced possible imprisonment for refusing to reveal their source of the grand jury testimony.
Assistant U.S. attorneys Douglas Miller and Michael Raphael said they withdrew grand jury subpoenas for the reporters and will ask White to dismiss an order in which he found them in contempt of court and said they must go to prison.
The two reporters had been allowed to remain free during their appeal, which was scheduled to be heard by the 9th U.S. Circuit Court of Appeals in San Francisco next month.
Fainaru-Wada and Williams said in a joint statement, "We're pleased that the prosecutors have stopped their efforts to force us to testify about the sources for our reporting on the BALCO sports steroids case.
"As we've said from Day One, we felt these subpoenas were inappropriate and posed a danger to future investigative reporting. We look forward to the prospect of getting back to covering the news without the threat of federal prison hanging over us," the reporters said.
Eve Burton, general counsel of the Hearst Corp., the Chronicle's parent company, said, "We are relieved that the government has ended its investigation and withdrawn the subpoenas to our reporters. The legacy and lesson of this three-year battle demonstrates the need for a federal shield law, which is gaining bipartisan support every day."
While 49 states have some kind of shield law protecting reporters' sources, there is no U.S. shield law that would apply to federal court cases.
White told Ellerman that in determining his sentence, he will balance the seriousness of the offenses against the fact Ellerman has accepted responsibility and made further court proceedings unnecessary.
Ellerman, who previously practiced law in Sacramento, briefly represented BALCO President Victor Conte and later became the lawyer for BALCO Vice-President James Valente. Both men pleaded guilty in 2005 to giving anabolic steroids to professional athletes.
Ellerman and other lawyers for four BALCO defendants, prosecutors and the defendants all received copies of testimony before a grand jury investigating the steroids case. All signed a protective order in which U.S. District Judge Susan Illston required them to keep the information secret.
After the Chronicle published excerpts of testimony by baseball players Barry Bonds, Jason Giambi and Gary Sheffield and sprinter Tim Montgomery in 2004, Illston asked the U.S. Justice Department to investigate the source of the leaks. The department then convened a new grand jury for the probe.
Ellerman admitted to allowing Fainaru-Wada to take notes on the transcripts in June and November 2004 and signing a false declaration in which he said he had "no idea" who leaked the information.
He also pleaded guilty to obstructing justice by filing a motion for dismissal of the charges against Valente that was based on a false allegation that there were "repeated government leaks of confidential information to the media."
Ellerman told the judge during his guilty plea, "I filed a motion to dismiss based on the leaks knowing that I knew who the person was and that was me."
Ellerman's attorney, Scott Tedmon, declined to comment after the hearing on Ellerman's reasons for leaking the information.
But Tedmon said that before the sentencing takes place, "We will give the court sufficient information for the court to understand what was going on in Mr. Ellerman's mind."
Tedmon noted that the two reporters will now be spared incarceration and said it was important to Ellerman "not to cause any one else to go to prison."
Deputy U.S. Attorney General Paul McNulty said in Washington D.C., "This investigation proved an especially cynical abuse of our system of justice.
"A lawyer secretly and illegally leaked information protected by a court order. He then turned around and filed public motions blaming the government for the leaks and sought to have his client's case thrown out because of these public disclosures," McNulty said.
If Ellerman is given a sentence of two years in prison, it will be the heaviest penalty in the BALCO case thus far.
In the original BALCO case, Valente and track coach Remi Korchemny were given probation, personal trainer Greg Anderson was sentenced to three months of prison and three months of home detention and Conte was given four months in prison followed by four months of home detention.
A fifth defendant who was indicted in 2005, chemist Patrick Arnold, was sentenced to three months in prison and three months of home detention for conspiring to distribute an anabolic steroid.
Two other defendants, cyclist Tammy Thomas and track coach Trevor Graham, are awaiting trial.
A separate grand jury is currently investigating whether Bonds may have lied during his grand jury testimony in 2003 in the original BALCO probe. Anderson is currently in prison for contempt of court for refusing to answer the new grand jury's questions about whether he ever gave Bonds steroids.
Copyright © 2007 by Bay City News, Inc. -- Republication, Rebroadcast or any other Reuse without the express written consent of Bay City News, Inc. is prohibited.
####