Prosecutors seek two-year sentence
for BALCO case leaker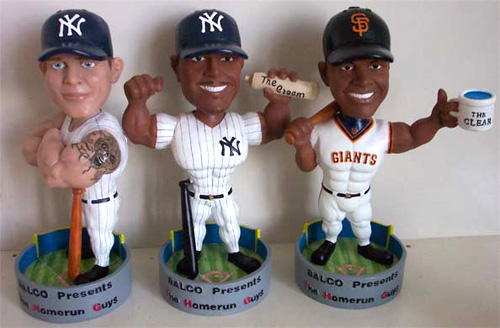 Photo courtesy www.thehomerunguys.com
By Julia Cheever

June 7, 2007
Prosecutors have urged a federal judge in San Francisco to mete out a two-year sentence to a former criminal defense lawyer who pleaded guilty to leaking secret grand jury testimony in a sports steroid case.
Troy Ellerman, 44, is due to be sentenced by U.S. District Judge Jeffrey White on June 14.
He pleaded guilty in February to four felony counts related to his disclosure of grand jury transcripts to a San Francisco Chronicle reporter in violation of a judge's order.
The transcripts contained testimony by San Francisco Giants star Barry Bonds and other athletes who appeared before a grand jury investigating a sports steroids scheme centered on the Bay Area Laboratory Cooperative, or BALCO.
At the time, Ellerman represented BALCO Vice President James Valente.
After the transcripts were published in 2004, Ellerman blamed federal prosecutors for the leak and even filed a motion for dismissal of the charges against Valente because of the leak.
Prosecutors said in a brief filed with White on Wednesday, "For an experienced criminal attorney, who has been practicing for a decade, to engage in such deceitful and self motivated criminal behavior in the course of a high-profile federal prosecution is shocking.''
The two-year sentence recommended by prosecutors is the maximum allowed under Ellerman's plea agreement, which specified that the penalty could range from probation to two years in prison.
Ellerman's attorney, Scott Tedmon, asked in a brief filed on Tuesday for a sentence of one year and three months.
Tedmon wrote that Ellerman agrees that probation would not be appropriate for the seriousness of the crimes, but said Ellerman is "genuinely remorseful.''
Ellerman pleaded guilty to two counts of contempt of court, one count of filing a false declaration and one count of obstruction of justice.
Copyright © 2007 by Bay City News, Inc. -- Republication, Rebroadcast or any other Reuse without the express written consent of Bay City News, Inc. is prohibited.
####