Judge given new proposal
for BALCO attorney sentence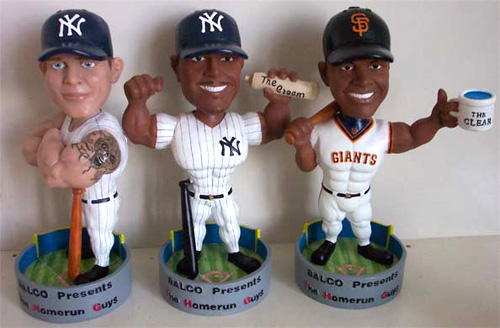 Photo courtesy www.thehomerunguys.com
By Julia Cheever

July 5, 2007
A federal judge in San Francisco was given a new proposal today for a stiffer sentence for an attorney who leaked secret grand jury transcripts in the BALCO sports steroid case.
The new plea agreement between Troy Ellerman, 44, and federal prosecutors would enable U.S. District Judge Jeffrey White to sentence Ellerman to up to two years and nine months in prison for the leaks.
It was announced in a three-page report filed with the judge by federal prosecutors today.
White will decide whether to accept the new agreement at a July 12 hearing. If he rejects it, Ellerman could go to trial on four counts carrying a maximum possible penalty of 15 years in prison.
On June 14, the judge refused to accept the original agreement, which would have capped the maximum possible sentence for Ellerman at two years in prison.
White said two years wasn't enough in view of the seriousness of the crime and the fact that Ellerman as a criminal defense attorney was an officer of the court.
Ellerman, a former Sacramento lawyer who most recently worked as a rodeo association commissioner in Colorado, pleaded guilty in February to four counts of leaking grand jury testimony by Barry Bonds and other athletes to two San Francisco Chronicle reporters in 2004.
At the time of the leaks, he represented Bay Area Laboratory Co-Operative (BALCO) Vice President James Valente, who later pleaded guilty to giving anabolic steroids to professional athletes.
The four charges to which Ellerman pleaded guilty were two counts of contempt of court, one count of filing a false declaration and one count of obstruction of justice.
In addition to violating a judge's order to keep the transcripts confidential, Ellerman publicly blamed prosecutors for the disclosures and even sought dismissal of the charges against Valente because of the leaks.
White in June did not say exactly what sentence he would find acceptable, but said it should be at least within federal guidelines recommending a penalty of between two years and three months and two years and nine months.
The new proposal sets a cap at "the high end of the sentencing guideline ranges," prosecutors told the judge in today's filing.
Copyright © 2007 by Bay City News, Inc. -- Republication, Rebroadcast or any other Reuse without the express written consent of Bay City News, Inc. is prohibited.
####