Former New York Mets employee pleads guilty
to selling anabolic steroids to pro-baseball players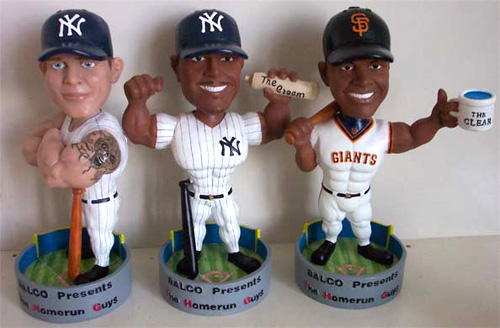 Photo courtesy www.thehomerunguys.com
By Julia Cheever

April 28, 2007
A former employee of the New York Mets pleaded guilty in federal court in San Francisco yesterday to selling anabolic steroids to Major League Baseball players.
Kirk Radomski, 37, of New York, is the eighth person to be charged and the sixth to be convicted in a sports drug investigation originally centered around the Burlingame-based Bay Area Laboratory Co-Operative, or BALCO.
Radomski, a former Mets batboy and clubhouse attendant who is now a personal trainer, pleaded guilty before U.S. District Judge Susan Illston to one count of distributing anabolic steroids and one count of laundering money from his sales.
U.S. Attorney Scott Schools said that during the plea, Radomski admitted to distributing steroids and other performance-enhancing drugs, including human growth hormone and amphetamine, to "dozens of current and former Major League Baseball players."
Schools said, "This investigation shows that distribution of performance-enhancing drugs continues to be an issue for sport in America.
"The distribution of anabolic steroids to professional athletes cheats both the paying public and the clean athletes and is a serious crime," Schools said.
Radomski will be sentenced by Illston on Sept. 7. The distribution count carries a maximum five-year sentence and the money laundering charge a maximum of 20 years, but the actual penalty will be determined after consideration of federal sentencing guidelines.
Schools said Radomski agreed to cooperate with the government's ongoing probe and with the Major League Baseball steroid investigation headed by former U.S. Sen. George Mitchell.
The U.S. attorney said authorities were tipped off to Radomski's activities by a confidential informant in 2005. A search of Radomski's house on Dec. 14, 2005, turned up thousands of doses of anabolic steroid pills and injections along with other drugs and shipping and financial records, Schools said.
Schools said Radomski agreed to begin cooperating with the government's investigation immediately after that search.
Copyright © 2007 by Bay City News, Inc. -- Republication, Rebroadcast or any other Reuse without the express written consent of Bay City News, Inc. is prohibited.
####