Newsom replaces Ragone with Ballard
Ragone expected to join Newsom re-election campaign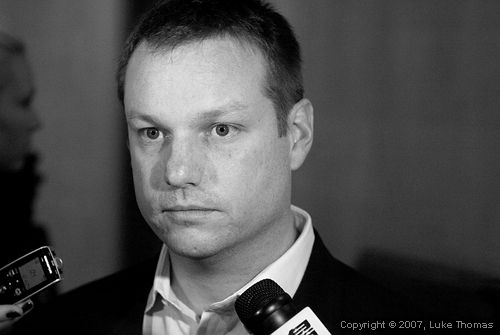 Embattled Newsom Press Secretary Peter Ragone.
Photo(s) by Luke Thomas
By Brent Begin, Bay City News Service

February 27, 2007
SAN FRANCISCO (BCN) - San Francisco Mayor Gavin Newsom announced Monday the appointment of Nathan Ballard as his new director of communications.
Ballard replaces former Communications Director Peter Ragone who came under fire for using fake names to post on websites, and being less than truthful about it.
According to a San Francisco Chronicle article, date 2/18/7, Newsom was not happy with Ragone's blogging but said the blogging incident was not enough to remove Ragone.
"I'm pleased that Nathan Ballard is joining our administration," Newsom said. "He is a seasoned communications director who also has valuable experience in San Francisco city government."
Ballard, 37, served as a spokesman for presidential candidates Senator John Kerry and General Wesley Clark. He has also been a spokesman for the Democratic National Committee, the California Democratic Party, and the California Labor Federation, AFL-CIO, according to Newsom's office.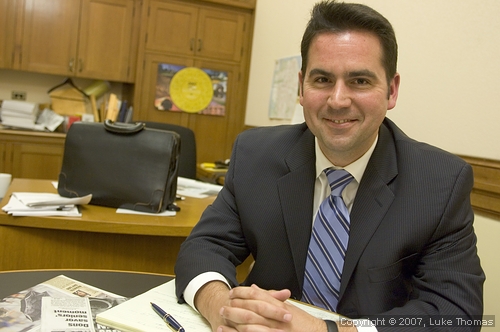 Nathan Ballard
San Franciscans may remember Ballard from his previous work as a deputy city attorney and spokesman for then City Attorney Louise Renne.
Ballard is scheduled to begin his new job on March 5.
Current director of communications, Peter Ragone, is expected to join Newsom's campaign for re-election, according to the mayor's office.
Luke Thomas contributed to this report.
Copyright © 2007 by Bay City News, Inc. -- Republication, Rebroadcast or any other Reuse without the express written consent of Bay City News, Inc. is prohibited.
####