United Nations:
Global warming, terrorism at top of agenda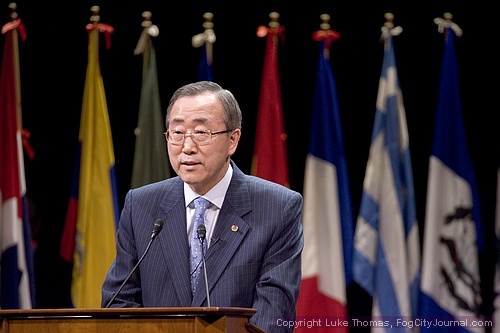 U.N. Secretary General Ban Ki-moon in San Francisco yesterday.
Photo(s) by Luke Thomas
By Julia Cheever
July 27, 2007
United Nations Secretary General Ban Ki-moon told a San Francisco audience yesterday that his priorities include addressing international terrorism, poverty, the Darfur conflict and climate change.
Ban, a South Korean diplomat who became the U.N.'s eighth secretary general on Jan. 1, said global warming has risen to the top of the organization's agenda.
"We are now starting out at a very critical and important juncture. The time is very late. The cost of inaction is far greater than the cost of action," Ban said.
Ban spoke before about 1,300 people at the Fairmont Hotel at a program sponsored by the World Affairs Council of Northern California, the United Nations Association and the Asia Foundation.
He called the Darfur crisis in Sudan "a topmost priority" and said solutions include U.N. peacekeepers and the development of water resources such as the recently discovered huge underground lake.
"I am going to solve this Darfur situation as soon as possible," he said.
Ban, 63, was South Korea's foreign minister from 2004 to 2006 before being elected to the U.N. post and also previously served as that country's ambassador to the U.N.
He said, "I feel very humbled and honored looking at all the challenges I have seen in the last seven months."
But Ban, who speaks with an unassuming manner, said his quiet demeanor shouldn't be mistaken for weakness.
"I have made many decisive decisions," he told the audience.
"I may not offer soaring rhetoric, but I promise results," he said.
Ban began his remarks with a tribute to San Francisco as the birthplace of the U.N. and to Libba Patterson of Novato, who was his host on his first visit to the United States at age 18 in 1962 after he won an English-language essay contest sponsored by the Red Cross.
"I indeed left my heart in San Francisco on my first visit to American soil," Ban said.
Copyright © 2007 by Bay City News, Inc. -- Republication, Rebroadcast or any other Reuse without the express written consent of Bay City News, Inc. is prohibited.
####