Researcher slams opponent of BART alcohol ads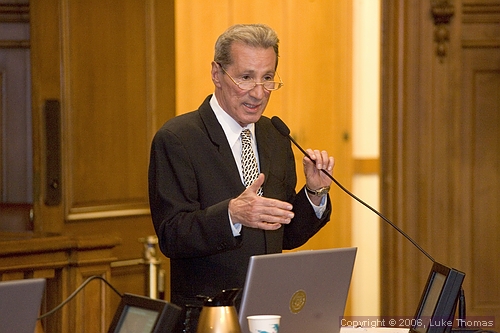 A proposed resolution urging directors of the Bay Area Rapid Transit district to rescind a recent decision to allow alcohol-themed ads on subway cars and at stations, sponsored by San Francisco Supervisor Tom Ammiano, has received criticism from Sociologist David Hanson. Hanson claims studies have not shown a causal link between alcohol advertising and alcohol consumption.
Photo(s) by Luke Thomas
By Emmett Berg, Bay City News Service

October 23, 2006
A veteran researcher slammed a resolution against alcohol advertising pending before San Francisco supervisors Tuesday as unscientific and akin to "giving up $400,000 for a pebble on a beach."
Sociologist David Hanson, contributor to more than 280 articles on alcohol abuse, was reacting to Supervisor Tom Ammiano's proposal to urge directors of the Bay Area Rapid Transit district to rescind a recent decision to allow alcohol-themed ads on subway cars and at stations.
The policy is expected to garner $400,000 in revenue for the transit district every year, according to a report.
Ammiano's resolution states in part that "exposure to alcohol advertising is positively associated with higher rates of drinking among some vulnerable populations."
Yet Hanson, professor emeritus at the State University of New York at Potsdam, said there was "no scientific evidence for that part whatsoever" of the supervisor's statement.
"There have been dozens of studies looking at the effects of advertising on alcohol consumption," Hanson said. "And it has never been demonstrated to have a causal link."
Hanson said to give up revenue from alcohol advertising would be irresponsible.
"There's $400,000 at stake here," he said. "It would be irresponsible for BART to pass up that money when there's no strong evidence that there would be a payoff."
Hanson said, "It's like giving up $400,000 for a pebble on the beach. Even if the ads did have an impact, not putting them on BART wouldn't make any difference. Alcohol ads are ubiquitous"
Hanson, who said he accepts no funding from the alcoholic beverage industry, has long been critical of what he calls "one-sided" and "counter-productive" messages by advocates against alcohol use, to the detriment of educating the public on moderate alcohol use.
In a recent article co-written with Ruth Engs, Hanson argued, "Millions of dollars are spent on health care, treatment and criminal prosecution as the result of alcohol abuse.
And drinking too much increases the risks of many illnesses. However, the association of moderate drinking with greater health and longevity is never mentioned at all in federally sponsored alcohol educational programs."
The supervisor was not immediately available for comment. Even if Ammiano's measure passes the board, the city has little more than a megaphone to use in influencing the actions of BART, a regional body led by officials appointed mostly from jurisdictions outside of San Francisco.
Copyright © 2006 by Bay City News, Inc. -- Republication, Rebroadcast or any other Reuse without the express written consent of Bay City News, Inc. is prohibited.

####