Bay Area firefighters sent to Tahoe fire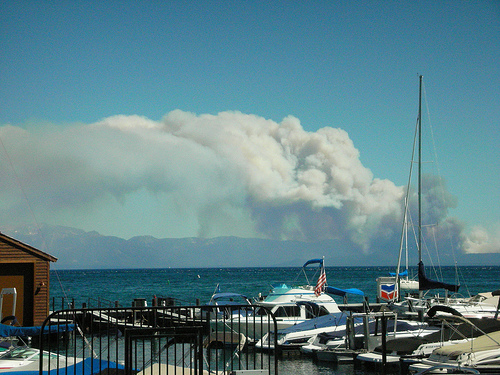 Photo courtesy Louisa Pickering
By Caitilin McAdoo and Ananda Shorey

June 25, 2007
Sixty-three firefighters from nine Bay Area counties are preparing to leave for South Lake Tahoe to help battle a raging wildfire that has destroyed about 220 homes and charred up to 2,500 acres.
The Bay Area firefighters are part of the state Office of Emergency Services Region Two, a 16-county area coordinated by the Contra Costa County Fire Protection District.
Contra Costa County firefighters plan to leave this afternoon from Fire Station No. 9 at Center Avenue and Pacheco Boulevard in Pacheco, Battalion Chief Dave George said.
Six other Bay Area firefighters, one from Alameda County, one from Contra Costa County and four from the city of Napa were sent earlier to help fight the fire, one Sunday night and five today, officials said.
The fire began at about 2 p.m. Sunday and has continued to burn out of control. As many as 1,000 structures remain threatened, fire officials said.
A mandatory evacuation is in place for the area and Lt. Gov. John Garamendi has signed an emergency proclamation declaring a state of Emergency for El Dorado County. According to the governor's office, the proclamation will provide state funding to cover the costs of fighting the fire and repairing damaged infrastructure.
No injuries have been reported as result of the blaze, known as the Angora Fire.
The fire is thought to have started in the mostly single-family subdivision of Tahoe Paradise, in the general vicinity of Mt. Rainier Street and North Upper Truckee Boulevard.
"It was a human-caused fire," said USDA Forest Service spokesman Rex Norman. There is no evidence that its origin is suspicious, he said.
Crews from the Forest Service, Lake Tahoe Fire Department and Cal Fire have been fighting the blaze so far, Norman said.
Copyright © 2007 by Bay City News, Inc. -- Republication, Rebroadcast or any other Reuse without the express written consent of Bay City News, Inc. is prohibited.
####