State officials honor Walsh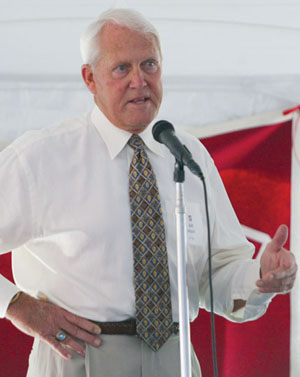 Bill Walsh, 1931-2007
Photo courtesy daily.stanford.edu
By Jason Bennert
July 31, 2007
The tributes to former 49ers head coach Bill Walsh did not just come from the world of football today.
Governor Arnold Schwarzenegger praised Walsh for his lifetime of work coaching and educating at the high school, college and professional levels of football, all in California.
"Maria and I join all Californians in mourning the passing of legendary football coach Bill Walsh and pay tribute to a man who devoted his life to excellence in California football. Bill spent his life teaching and mentoring athletes at the high school, college and professional level in California,'' Schwarzenegger said in a statement.
U.S. Sen. Dianne Feinstein, D-CA, remembered how the success of the 49er teams built by Walsh brought San Francisco residents together following the assassinations of Mayor George Moscone and Supervisor Harvey Milk in 1978, and following the 1989 Loma Prieta earthquake.
"He touched so many in the Bay Area. He led the 49ers to three Super Bowls. And he gave this City a shot in the arm in some of its darkest hours,'' Feinstein said in a statement.
San Francisco Mayor Gavin Newsom said Tuesday would be declared Bill Walsh Day in San Francisco and the flag at City Hall would be flown at half-mast.
"His legacy will live on through the hundreds of NFL players and coaches he inspired, as well as millions of fans of the game. Although I am saddened by his passing, I would like to mark this day by remembering and honoring his great accomplishments and contributions to the sport of professional football and our city,'' Newsom said in a statement.
Copyright © 2007 by Bay City News, Inc. -- Republication, Rebroadcast or any other Reuse without the express written consent of Bay City News, Inc. is prohibited.
####