Bloomberg, Newsom, Harris join forces
to push illegal gun control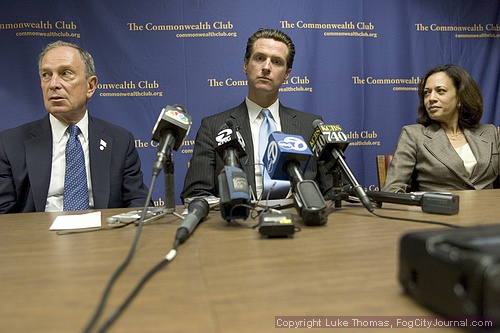 New York Mayor Michael Bloomberg, San Francisco Mayor Gavin Newsom and San Francisco District Attorney Kamala Harris, held a press conference this morning to draw attention to a combined effort to rid city streets of illegal guns.
Photo(s) by Luke Thomas
By Ananda Shorey

June 18, 2007
New York Mayor Michael Bloomberg and San Francisco Mayor Gavin Newsom joined forces in San Francisco today to bring awareness to a campaign aimed at stopping the flow of illegal guns into U.S. cities.
The aim of the bipartisan campaign, brought about by Mayors Against Illegal Guns, a group which brings together some 225 mayors, is to prevent criminals from illegally obtaining guns by cracking down on gun dealers. It also is pushing for law enforcement to be able to share information easier.
The coalition opposes a federal measure that restricts the ability of law enforcement to use gun trace data, which tracks the movement of a firearm from its sale to its first retail purchaser, to fight against illegal gun trafficking.
Since 2003, an amendment has been attached to a U.S. Department of Justice appropriations bill that prevents cities, states and police from accessing and using Bureau of Alcohol, Tobacco and Firearms and Explosives gun trace data, according to the coalition.
The coalition is trying to prevent the renewal of the amendment. Some gun rights advocates oppose the coalition's efforts, arguing that not renewing the amendment will result in a flurry of lawsuits. They also say the amendment protects undercover police officers.
"This is an anti-gun agenda not a law enforcement provision," National Rifle Association spokeswoman Rachel Parsons said.
The amendment as it stands allows law enforcement to have access to any trace information they want, Parsons said. What Bloomberg wants is to allow the public to get access, she said.
"There is just no sense in that. No citizen needs that for any reason," Parsons said.
In addition to risking law enforcement officers' lives, the Fraternal Order of Police, the nation's largest law enforcement organization, and the ATF say repealing the Tiahrt Amendment could also jeopardize ongoing criminal investigations, according to Wendy Cook, spokeswoman for Republican Rep. Todd Tiahrt of Kansas.
Bloomberg said gun advocates should be leading their effort so that legal use of guns is not targeted. The campaign targets only illegal guns.
"I don't think you can let the perfect get in the way of the good," Bloomberg said regarding why the mayors aren't trying to make it possible to better trace all guns.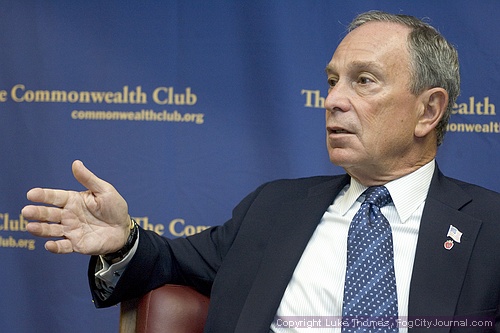 Mayor Michael Bloomberg
There are 30,000 gun deaths in the U.S. yearly, according to Mayors Against Illegal Guns.
"This is a real phenomenon," Newsom said.
Newsom mentioned the recent shootings in the Western Addition public housing project in San Francisco that wounded seven people as an example of the need for guns to be tracked.
"We are doing our best under difficult circumstances," Newsom said.
Newsom said he is increasingly following Bloomberg's lead on a number of issues, including fighting crime.
While crime in New York is going down, elsewhere it is increasing, Bloomberg said.
Living in a post 9/11 world, we have to share information, connect the dots, Bloomberg said.
Copyright © 2007 by Bay City News, Inc. -- Republication, Rebroadcast or any other Reuse without the express written consent of Bay City News, Inc. is prohibited.
####