Bonds' 756th home run ball going up for auction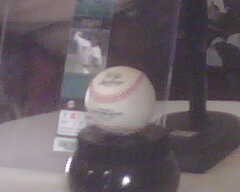 Photo by Emmett Berg, special to Fog City Journal
By Emmett Berg
August 22, 2007
The baseball that Giants' slugger Barry Bonds hit Aug. 7 to break Hank Aaron's home run record was on view in San Francisco yesterday for the first time since it disappeared into a maw of fans behind center field at AT&T Park.
New York City resident Matt Murphy announced the pending sale of the ball at a news conference near the ballpark this afternoon, where he was flanked by executives from SCP Auctions, a sports memorabilia house working in conjunction with the auctioneer Sotheby's.
"On August 7, history was made, and I was happy to be in-house when it happened," Murphy said. "And I was lucky enough to be the guy who caught the ball."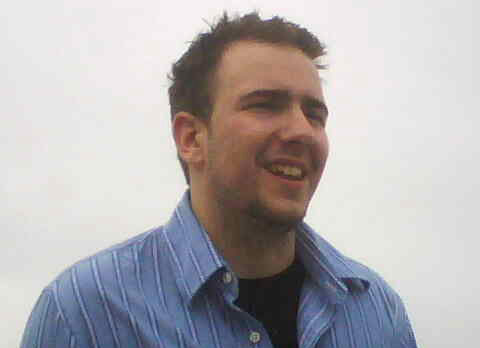 Mets fan Matt Murphy, 21, of Queens, N.Y., caught Barry Bonds'
record setting 756th homer at AT&T Park in San Francisco, August 7.
Photo by Emmett Berg, special to Fog City Journal
Now the historic ball will join Bonds' 755th and more than 1,000 other memorabilia items in an online auction starting Aug. 28 and concluding on Sept. 15.
The online auction will take place at www.scpauctions.com.
David Kohler, SCP's president, said that his firm estimates the ball to be significantly more valuable than Bonds' 700th home run ball, which was sold in 2005 for $102,000, or his 715th, which sold for $220,100 about a year ago.
"We think this is a half million dollar baseball," Kohler said. "It will be interesting come Sept. 15 to see what this is worth."
Murphy said as a student he simply could not afford to keep the ball and was warned he might have to pay taxes even if he kept the ball.
"It was simple math," he said of selling the ball. "But I was upset by the decision I had to make."
Kohler said the ball's connection to a player, Bonds, who was rumored to have used steroids, would not necessarily diminish the ball's value.
"Negative overkill can make the price go the other way," Kohler said.
Murphy and his two friends, Amir Kamal and Ryan Margolis, cut short their visit to Australia to meet with the media. Margolis was headed back to New York tonight while Murphy and Kamal, who owns part of the ball, will stay behind in San Francisco for a few more days.
"We're going to stick around to get the word out," he said.
Murphy said he had not been contacted by Bonds personally, but that he "has tremendous respect for the man."
"I hope whoever does buy it lends it or gives it to the Hall (of Fame)," Murphy said, "because that's where it belongs."
Copyright © 2007 by Bay City News, Inc. -- Republication, Rebroadcast or any other Reuse without the express written consent of Bay City News, Inc. is prohibited.
####