Bonds breaks home run record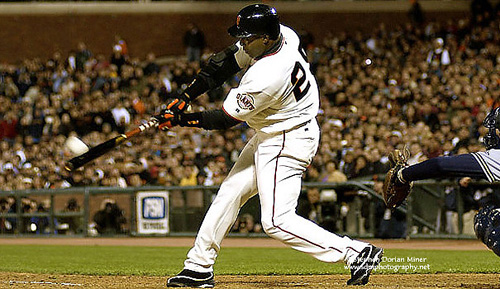 Slugger Barry Bonds made history today after hitting his 756th Major League Baseball home run against the Washington Nationals at AT&T Park in San Francisco.
Photo by Stephen Dorian Miner
By Jeff Shuttleworth
August 7, 2007
Hank Aaron's more than 33-year reign as Major League Baseball's home run king ended tonight in the house that Barry built.
Barry Bonds smashed his 756th career home run in the fifth inning of tonight's game against the Washington Nationals at AT&T Park in San Francisco, eclipsing Aaron's previous record of 755 home runs first set on April 4, 1974.
The 43-year-old Bonds hit the homer on a fly ball to right center field off Nationals pitcher Mike Bacsik.
Bacsik became the 446th pitcher to allow at least one home run to Bonds during the slugger's 22-year career. Bonds' first home run in the MLB was on Jun 4, 1986.
Bonds joined the Giants in 1993 as a free agent and has hit a total of 580 homers with the team, second behind his godfather, Willie Mays, with 646.
Bonds' record-tying 755th homer was hit Saturday night in the second inning against the San Diego Padres at PETCO Park in San Diego.
Copyright © 2007 by Bay City News, Inc. -- Republication, Rebroadcast or any other Reuse without the express written consent of Bay City News, Inc. is prohibited.
####