Bonds' 756th home run ball auctioned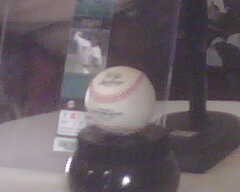 Photo by Emmett Berg
September 15, 2007
Barry Bonds' record-breaking home run baseball was auctioned today for $752,467, significantly more than auctioneers had predicted.
Record-tying home run No. 755 sold for $186,750.
SCP Auctions officials estimated No. 756 would go for $500,000.
No. 755 was predicted in the $200,000 range.
Bonds smashed his 756th career home run in the fifth inning of an Aug. 7 game against the Washington Nationals at AT&T Park in San Francisco.
The long fly ball to right-center field eclipsed Henry Aaron's record of 755 set on April 4, 1974.
The record-tying 755th homer was hit in the second inning of an Aug. 4 game against the San Diego Padres at PETCO Park in San Diego.
The new owners of the baseballs have not been revealed.
Copyright © 2007 by Bay City News, Inc. -- Republication, Rebroadcast or any other Reuse without the express written consent of Bay City News, Inc. is prohibited.
####