Candlestick Point plan "won't work" says 49ers' MacNeil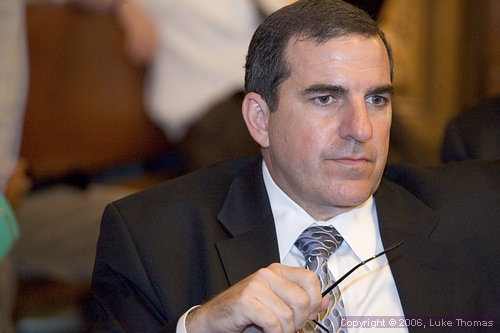 49ers Chief Financial Officer Larry MacNeil
Photo(s) by Luke Thomas
By Emmett Berg, Bay City News Service

November 21, 2006
SAN FRANCISCO (BCN) - A San Francisco 49ers executive told the city's Board of Supervisors today that a plan for a new stadium and mixed-use development at Candlestick Point was "spectacular" but relied on a massive parking garage that would "terrify our fans."
"The site plan is spectacular," said Larry MacNeil, chief financial officer for the 49ers. "It just does not work for a NFL stadium."
MacNeil's comments followed an extensive presentation by city officials and the developer selected to work with the team on a stadium replacement plan, Miami-based Lennar Corp.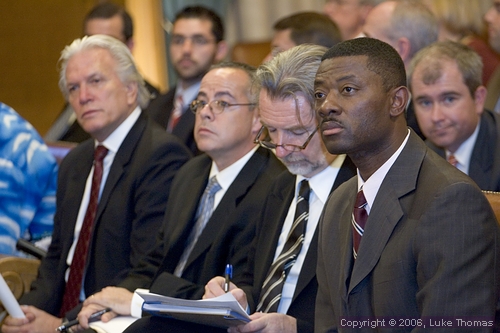 Recently the team announced plans to focus on moving the team to Santa Clara.
The illustrated talk by architects, consultants and engineers evoked a remade Candlestick Point that would add amenities, cachet and recreational opportunities to the impoverished Bayview area.
The plan includes construction of 6,500 units of housing, a Main Street of retail shops and restaurants and a revitalized Candlestick Point State Park including naturalized ponds, environmental demonstration areas, open space, reflecting pools, "dramatic mounds" for viewing opportunities, a bio-filtration pond, and integration to the historic character of the Bayview community.
Yet a centerpiece of the plan is a 10,000-stall parking garage that would have a rooftop tailgating area for 1,500 vehicles.
The garage would be among the largest in the nation, and MacNeil said the team in its outreach to fans had learned they were nervous about such a large concentration of cars.
And during one year of construction under the proposed plan, some 8,000 vehicles would have to be parked offsite with fans bused to the stadium.
"We're looking to break new ground on a stadium, but we're not looking to terrify our fans," MacNeil said.
Several times during today's hearing at City Hall, supervisors mentioned that the parking garage could be altered.
But MacNeil said downsizing the parking garage would reduce the amount of land available for housing, and uncertainties over the sale of 6,500 units of housing meant that there was a chance that $800 million in needed infrastructure improvements would take much longer.
Concerns over the parking garage and housing components added too much risk to the stadium project, MacNeil said. "It depends on Lennar's ability to sell homes at a profit."
"In our opinion, this plan doesn't work," MacNeil said. "We're happy to hear other plans, but this one doesn't work."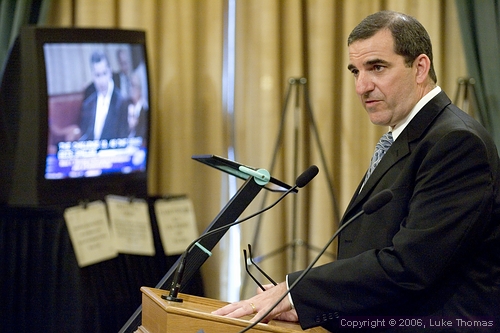 Supervisors expressed willingness to continue talks with the team and hope to find ways to convince the 49ers to stay. The team's lease continues through the 2007 season, and the team has the option to renew for up to 15 more years.
Copyright © 2006 by Bay City News, Inc. -- Republication, Rebroadcast or any other Reuse without the express written consent of Bay City News, Inc. is prohibited.
####