San Francisco supervisors move
to restore 49ers stadium negotiations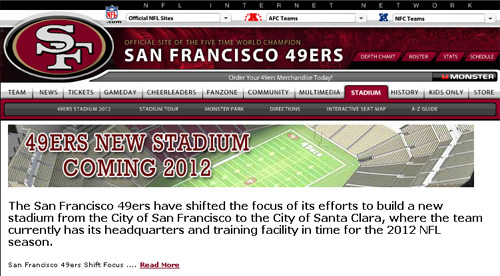 Screenshot courtesy 49ers.com
By Ari Barak, Bay City News Service

January 22, 2007
SAN FRANCISCO (BCN) - Two San Francisco supervisors plan this week to call for stepped up efforts to keep a new stadium project for the San Francisco 49ers in the city, said an aide to Board of Supervisors President Aaron Peskin.
Peskin said in a statement Friday that he and Supervisor Sophie Maxwell will introduce a resolution asking 49ers officials to continue working with developers from Lennar Corporation "to ensure all appropriate financing tools, mechanisms and entitlements are available for the development of Candlestick Point and the Shipyard, so no further delays occur.''
Peskin and Maxwell would like to see a future stadium and the revitalization of the Bayview neighborhood.
Peskin's spokesman David Noyola said Peskin and Maxwell want plans discussed at a Nov. 21 public hearing by the Board of Supervisors, the development team and the 49ers to move forward so an alternative stadium site may be presented to the 49ers by their opening day deadline in 2012.
Since the Nov. 21 hearing, the issues "haven't been examined in a manner that lends itself to a resolution and pragmatic solution,'' Peskin said.
"The community deserves a process that examines a stadium alternative and a no-stadium alternative,'' said Maxwell, who represents the Bayview district.
"We need housing, education and infrastructure improvements, and hopefully that plan will allow the 49ers to see clearly San Francisco is the optimum site,'' Maxwell added.
Copyright © 2007 by Bay City News, Inc. -- Republication, Rebroadcast or any other Reuse without the express written consent of Bay City News, Inc. is prohibited.

####