Broussard claims he's the fall guy in Bailey killing
Oakland Police defend professionalism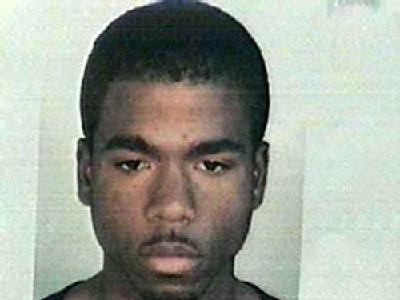 DeVaughndre Broussard is a suspect in the murder of journalist Chauncey Bailey.
Broussard, 19, claims police were present when a Your Black Muslim Bakery leader ordered Broussard to confess to shooting Bailey.
Police photo courtesy ktvu.com
By Jeff Shuttleworth
August 16, 2007
Oakland police defended their professionalism today after the attorney for the man accused of murdering journalist Chauncey Bailey claimed that police were present when a Your Black Muslim Bakery leader ordered his client to take the fall for the incident.
After a brief court hearing for DeVaughndre Broussard, 19, a handyman at the bakery, defense attorney LeRue Grimm said he was "astonished" when Broussard told him in a jailhouse interview Wednesday night that police were present when a bakery leader told him to confess to shooting Bailey two weeks ago.
Bailey, 57, was shot multiple times on 14th Street near Alice Street shortly before 7:30 a.m. on Aug. 2 as he was walking from his home near Lake Merritt to his job as editor of the Oakland Post several blocks away at 405 14th St.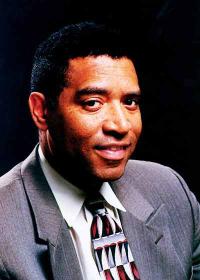 Chauncey Bailey
Photo courtesy Oakland Tribune
Oakland police say Broussard told them that he murdered Bailey because he didn't like stories Bailey had written and researched about the bakery. They say they have gun evidence connecting Broussard to the shooting.
Oakland police spokesman Roland Holmgren declined to respond to the specifics of Grimm's comments today, saying, "The case is in the hands of the District Attorney's office."
But Holmgren said, "I believe that we have some of the most professional and ethical investigators in homicide who have done an excellent job with investigating this case. They have done so with dignity and respect for all parties involved."
Grimm officially took Broussard's case today after talking to him Wednesday night. Grimm said he initially tried to talk to Broussard over the weekend but Alameda County Sheriff's deputies refused to let him speak to Broussard. Sheriff's officials haven't responded to a phone call seeking comment on Grimm's allegation.
Grimm said Broussard "could be completely innocent" based on the limited information he has on the case at this time.
Grimm said he knows the name of the person whom Broussard says ordered him to take the fall but declined to identify the person.
Grimm said Broussard "feels betrayed" by his bakery associates and he's concerned about his client's safety in jail, where he's being held without bail, because "there's some tension among persons at the bakery."
Grimm said that at the bakery "everyone is supposed to be close," but Broussard "has woken up and understands that his trust has been taken advantage of."
The San Francisco defense attorney said he will put Broussard on the witness stand if the case goes to trial.
Broussard pleaded guilty to felony assault in January 2006 for an attack on a passenger on a San Francisco Muni bus the previous year, but Grimm described him as "really a nice young man" who is "intelligent, rational and calm."
Grimm told reporters, "You'd like him."
Assistant Police Chief Howard Jordan said the day after Bailey was shot that police believe bakery leader Yusuf Bey IV, 21, was involved in some fashion.
But Bey hasn't been charged at this point and Broussard is the only defendant currently in the case.
However, Bey is in custody without bail on recent kidnapping and real estate fraud charges. He also faces numerous other unrelated felony charges in Alameda, San Francisco and Solano counties.
Bey and co-defendants Joshua Bey, 20, who's his brother, and Tamon Halfin, 21, appeared in court briefly today on charges that they kidnapped and tortured two women in Oakland on May 17.
They're scheduled to return to Alameda County Superior Court on Aug. 30 to enter pleas and set future court dates.
All three men are affiliated with the bakery and are being held without bail.
Joshua Bey will have a bail hearing on Tuesday.
Copyright © 2007 by Bay City News, Inc. -- Republication, Rebroadcast or any other Reuse without the express written consent of Bay City News, Inc. is prohibited.
####