Oakland Mayor Brown opts against affordable housing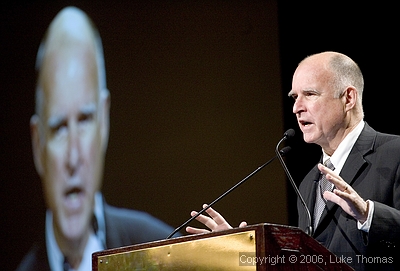 Oakland Mayor Jerry Brown.
Photo(s) by Luke Thomas
By Lara Moscrip, Bay City News Service
November 1, 2006
OAKLAND (BCN) - Oakland Mayor Jerry Brown voted Tuesday night to create a panel of experts to study whether developers should be required to build affordable units in future housing projects in the city, effectively voting down an effort by some City Council members to enact such a measure before the Nov. 7 election.
According to a spokesman for Brown, a blue-ribbon panel will take an in-depth look at what the city might need to do to create an "inclusionary zoning'' housing policy.
The inclusionary zoning ordinance before the council would have required that 15 to 20 percent of units in future housing developments be allotted for low- and moderate income families.
According to Councilwoman Jane Brunner, Brown's choice to break the tie within the City Council in favor of the substitute motion creating the expert panel is a big loss for the city.
"I think it's an absolute lost opportunity. He has been really good at bringing people and development to Oakland,'' Brunner said today of the mayor. "Now it's time to give back to the community and that's by providing jobs or providing affordable housing.''
Brunner noted that if Proposition 90 were to pass on Election Day, the city "may never be able to do this again.'' Brunner said the statewide proposition, if passed, could make it more difficult for the city to require developers to build affordable housing.
Gil Duran, spokesman for Brown, said today that given the way the inclusionary housing ordinance was written, only one-third of 1 percent of people who need affordable housing would benefit.
"We've been able to attract a lot of investment to Oakland in the past eight years,'' Duran said, noting that in Brown's terms, 30 percent more affordable housing was built than under his predecessor.
"Some people believe that putting condos where there were once were blighted parking lots is a bad thing. We think it's good to have more tax dollars, more stores, more restaurants,'' Duran said.
The blue-ribbon panel will include appointees from Brown, mayor-elect Ron Dellums, City Council members, the city administrator's office and the city attorney's office.
Work on appointing the panel will start next week, Duran said, and it is scheduled to conclude its work on affordable housing by Jan. 31.
Copyright © 2006 by Bay City News, Inc. -- Republication, Rebroadcast or any other Reuse without the express written consent of Bay City News, Inc. is prohibited.

####