California Attorney General to sue Bush Administration over gas mileage standards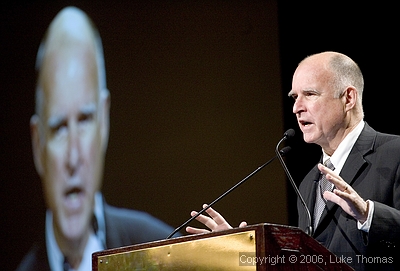 California Attorney General Jerry Brown
Photo(s) by Luke Thomas
By Ari Barak

May 13, 2007
A San Francisco federal appeals court on Monday morning will hear a lawsuit filed by state Attorney General Jerry Brown and several other states against "weak" gas mileage standards adopted by the Bush administration, the Attorney General's office reported.
Brown is scheduled to hold a news conference on the steps of the 9th U.S. Circuit Court of Appeals in San Francisco announcing the lawsuit, which alleges that a recent increase by the National Highway Traffic Safety Administration in vehicle mileage standards for sport utility vehicles, pickup trucks and minivans runs contrary to federal rules mandating energy conservation, according to the Attorney General's office.
"It is unconscionable to have a one-mile-per-gallon mileage boost," Brown said in a statement released by his office. "We are asking the court to reject this dangerously weak mileage plan."
According to the Attorney General's office, the Bush administration's approval last year of an increase in vehicle mileage standards from 22.2 mpg to 23.5 mpg by 2010 "primarily emphasized the financial costs to the auto industry instead of seriously considering the cost to the environment and people's health."
Accompanying Brown in the lawsuit are the states of New York, New Jersey, Connecticut, Massachusetts, Maine, Minnesota, New Mexico, Oregon, Rhode Island and Vermont, as well as the District of Columbia, New York City and several environmental groups.
Brown's news conference is scheduled for 9:30 a.m. on the front steps of the 9th U.S. Circuit Court of Appeals at 95 Seventh St. The case is expected to be heard at about 10 a.m., according to the Attorney General's office.
The NHTSA, a division of the U.S. Department of Transportation, oversees motor vehicle and highway safety education, research, standards and enforcement.
Copyright © 2007 by Bay City News, Inc. -- Republication, Rebroadcast or any other Reuse without the express written consent of Bay City News, Inc. is prohibited.
####